Microsoft E3 2017 press conference set for June 11
Microsoft moves to Sunday.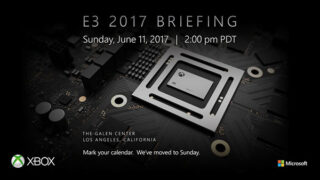 Microsoft will hold its E3 2017 press conference on Sunday, June 11 at 2:00 p.m. PT / 5:00 p.m ET, the company announced.
The press conference will be held at its usual location—the Galen Center in Los Angeles, California—but it is being held on Sunday rather than its usual Monday time slot.
The Xbox Twitter account promises "big news." As teased in the image, Microsoft is expected to fully reveal Project Scorpio, which was announced at E3 2016.
E3 2017 runs from June 13 to 15.