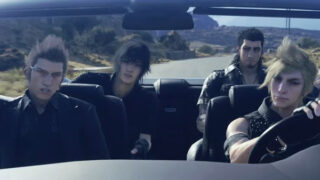 The latest issue of Weekly Famitsu has an interview with Final Fantasy XV director Hajime Tabata, who discusses digital sales, fan satisfaction, cut content, the E3 2016-announced virtual reality content, and even the potential of a PC port.
Get the tidbits below.
What's the ratio between Final Fantasy XV's physical and digital sales?

Tabata: "Based on the company's average, there has been a whole lot of sales of the digital version. We've seen good numbers not only in Japan, but also in North America and Europe, so we're happy about it."

What kind of feedback have you received from players overseas, given that they're so accustomed to open worlds?

Tabata: "As a current generation game, there has been a lot of satisfied feedback. We've seen an impressive amount of feedback such as, 'it's a very important title as it's a major step in Final Fantasy moving forward to the next stage.' However, players that put maximum priority on story have the same opinion as those in Japan (their level of satisfaction is low)."

Were there any parts of the story that were cut out of necessity?

Tabata: "Not particularly."

When you update Chapter 13, will there be a mechanism for players who have cleared it to be able to play it again?

Tabata: "I'm thinking about those things together."

What's going on with Final Fantasy XV's virtual reality content?

Tabata: "Development is progressing, but we haven't progressed to the point where we can say specifically when it will be released."

Fast-travel loading is long…

Tabata: "It's honestly difficult because there is a lot of information to load. We're thinking about various ideas though."

Any update and downloadable content news outside of what was announced?

Tabata: "Although there are no plans, I do have one ambition. And that's to freely travel that world by car. However, since realizing this in its existing state means overcoming some very high hurdles and tremendous debugging, the prospect of implementing it is impractical."

In the movie there were areas that you couldn't go to in the game. Will the amount of areas increase?

Tabata: "Those videos made use of glitches. There is a large map being used on the train route in the second half of the game. Since that area isn't completely made, opening it up as an area you can freely traverse is difficult as is.

"We might remake playable areas in future expansions, but since that would take a year, it is not currently in our plans. For argument's sake, if we were to prepare new fields, Insomnia would also be a candidate, but that also would take a year's worth of work."

Regarding a release on other platforms…

Tabata: "I'd like to release the game on PC as a technical attempt. I want to show PC users Final Fantasy XV running on high-end machines, and we personally would like to see it, too. Also, I would like to try developing on PC to pursue a unique way of playing with PC-exclusive features like making your own quests and enjoying the world using things like mods."
Final Fantasy XV is available now for PlayStation 4 and Xbox One.
Thanks, Hachima Kikou.