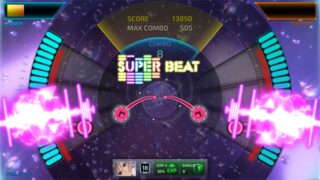 Superbeat: Xonic, which first launched for PS Vita in November 2015, is coming to PlayStation 4 in physical and digital formats, and Xbox One in digital format this spring. Acttil will publish the game in North America, and Rising Star Games will publish the game in Europe, Australia, New Zealand, and the Middle East.
The PlayStation 4 and Xbox One versions of the PM Studios-developed rhythm game includes over 65 music tracks from R&B to rock, techno, and K-pop, including all of the downloadable content tracks from the PS Vita version, as well as brand new music featured as downloadable content.
Here's the full overview, via Rising Star:
About

The team at PM Studios is the creative force behind DJ MAX Fever, a widely acclaimed rhythm title for the PlayStation Portable system which released in the North American market in 2008. Equipped with brand-new user interfaces and rhythms, PM Studios crafted an even more innovative and interactive music game experience in 2015—Superbeat: Xonic for the PlayStation Vita system. Now, Superbeat: Xonic is back with even more killer songs for the PlayStation 4 and Xbox One.

Key Features

All about rhythm! – PM Studios will bring you back to the beat once again with a high-speed, intuitive system found only in Superbeat: Xonic! Is the rhythm in you?
Modes that fit you! – Depending on your skill level, you can choose between 4TRAX (beginner), 6TRAX and 6TRAX FX (master). The handy tutorial mode will always be available as well!
Massive play patterns! – Are you ready to groove to our fantastic music selection and master the monster patterns thrown at you? Raise the beat with Free Style for endless gameplay!
New music! – Superbeat: Xonic will feature Beatcraft – exclusive new music alongside several popular tracks – this music is guaranteed to electrify your Xonic experience!
Real-time DJ ranking! – Check your rank in real-time in both local and worldwide rankings! Ride your way to the top of the charts and become the best DJ!
Music to your eyes! –Enhance your DJ experience with over 50 captivating illustrations!
In related news, PM Studios also promised a "special announcement" for PS Vita fans coming "very soon."
View the first set of PlayStation 4 and Xbox One screenshots at the gallery.