Sound-based horror Perception coming to PS4
From a studio formed by BioShock and Dead Space developers.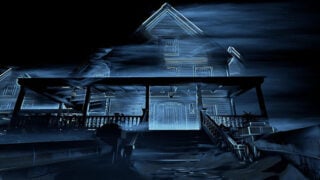 Perception, previously announced for PC from independent studio The Deep End Games, formed by BioShock and Dead Space developers, is coming to PlayStation 4 courtesy of Poland-based publisher Feardemic, the studio announced.
Here's an overview of the game, via the PlayStation Blog:
Perception is a first-person narrative horror adventure that tells the story of Cassie, a blind heroine who uses her extraordinary hearing and razor-sharp wits to unravel the mysteries of an abandoned estate that haunts her dreams.

After months of research, she discovers an abandoned mansion in Gloucester, MA. Once there, Cassie finds that Echo Bluff is worse than her nightmares. A ghostly Presence has tormented its inhabitants over generations, and it now hunts Cassie. She must solve the estate's mysteries or become one of its victims.

Cassie finds her way by tapping her cane and can "see" via echolocation. She needs to avoid detection and uses ambient sounds of the house to help her navigate or uses objects to create distractions. Every sound creates a visual. But there is a cost…sound will attract your enemies and reveal your location.

But you'll also need to match wits with the Presence, a mysterious force that haunts the mansion. When playing, you must carefully weigh the risk of making too much noise against the possibility of being discovered. Once spotted, your only hope is to run, hide, and pray that it doesn't find you. Cassie can also use the ambient sounds of the house to her advantage, by throwing objects like alarm clocks to create "sound bombs" that can distract her enemies.

Then there is the mansion of Echo Bluff, which has grown to almost be a character unto itself as it shifts through the different time periods and messes with the player.
Watch an old trailer for the game below.