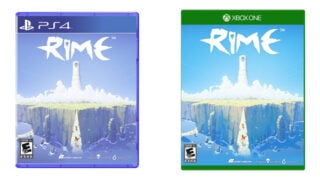 Rime, which was confirmed yesterday for a May 2017 release across PlayStation 4, Xbox One, Switch, and PC, will be released physically in addition to digitally, retailer listings reveal.
Both Amazon (PS4, Xbox One) and Best Buy (PS4, Xbox One) are listing physical PlayStation 4 and Xbox One SKUs for $29.99. Amazon, specifically, lists a May 9 release date, though an official date has yet to be announced. A physical Switch SKU is likely also planned, however retailers probably won't begin listing Switch games until after Nintendo's January 12 event.
If you missed it yesterday, catch the Rime re-reveal gameplay trailer here.
View a new set of screenshots and high-res box art at the gallery.
Update 12:15 p.m.: The official Rime website has launched, providing an overview of the game:
About

A land of discovery stretches out before you. Explore the beautiful, yet rugged, world of Rime, a single-player puzzle adventure game releasing in May 2017.

In Rime, you play as a young boy who has awakened on a mysterious island after a shipwreck. You see wild animals, long-forgotten ruins and a massive tower that beckons you to come closer.

Armed with your wits and a will to overcome—and the guidance of a helpful fox—you must explore the enigmatic island and unlock its closely guarded secrets.

Features

Explore – Discover the mysterious island at your own pace. Interact with wildlife, search for hidden items or simply take in the sights and sounds.
Solve Puzzles – Make your way through the ancient ruins by solving puzzles with sound, light, perspective, platforming, and even time manipulation.
Find Secrets – Dive deeper into the boy's backstory by uncovering dozens of secrets and collectibles.
Be Enchanted – Take in beautiful, Mediterranean-inspired terrain complemented by the captivating music of David García Díaz.