Dissidia Final Fantasy: Opera Omnia now available in Japan
The Dissidia smartphone RPG.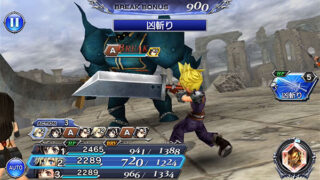 Dissidia Final Fantasy: Opera Omnia is now available for iOS via the App Store and Android via Google Play in Japan. It is free to download and play, and has item-based in-app purchases.
Here's a brief overview of the game:
Overview

A smartphone-oriented title set in the same world as the popular arcade game Dissidia Final Fantasy. It is a new RPG that is easy to enjoy and follows a story of legendary Final Fantasy gathered before two gods. It has command-based battles that use the same Brave Attack and HP Attack systems as the arcade version.

A Story that Interweaves Legendary Final Fantasy Characters

The story begins when the distortion of an evil dimension begins to corrode the world—one in which soldiers from various space-times have been gathered by the two gods. A large number of legendary Final Fantasy characters will appear, all with voice-overs. Dissidia Final Fantasy: Opera Omnia will follow a story full of mystery in spectacular production.

Evolved Command Battles

Use an all-new battle style that combines the Brave System from the Dissidia series and the command-based battles that Final Fantasy fans know and love. Each character can use various abilities and ace-in-the-hole summons to stand against formidable enemies.
Watch a trailer below.