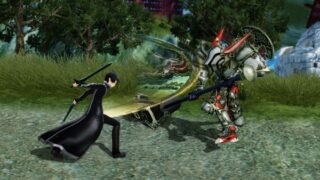 Bandai Namco has released new Accel World VS Sword Art Online: Millennium Twilight information and screenshots detailing the game's latest characters, more differences between Sword Art Online and Accel World characters, player-versus-player, and 16-player multiplayer.
Get the information below.
■ Characters

Strea (voiced by Sachika Misawa)

She first appeared in Sword Art Online: Infinity Moment. She met Kirito on the 76th floor of Aincrad, and then joined up with him. She is an AI character, but joins Kirito after he saves her. She has a cheerful attitude towards everyone. Her main weapon is a great sword. Her race is Gnome.

Aqua Current / Himi Akira (voiced by Kana Ueda)

Nega Nebulus' first member. A neutral girl in charge of intelligence gathering and analysis. Her Duel Avatar is made up of circulating water, and its form and color are uncertain. She has the second name of "Pure Water Achromatic (Aquamatic)."

Philia (voiced by Yui Ishikawa)

She first appeared in Sword Art Online: Hollow Fragment. She was wandering about the Hollow Area alone, and joins up with Kirito after he saves her. A self-styled treasure hunter. Her main weapons are daggers. Her race is Spriggan.

Metatron (voiced by Yukana)

A God Class Eneemy with a purpose. While she's an enemy, she is appointed a member of Nega Nebulus by Kuroyukihime. She is the last boss of the "Contrary Cathedral" and one of the "Four Saints."

Argo (voiced by Shiori Izawa)

A known information broker in Sword Art Online. She is known by the nickname Argo the Rat. She has three lines drawn on both her cheeks. In ALfheim Online, she chooses the Cait Sith race. Her main weapons are daggers.

Ardor Maiden / Shinomiya Utai (voiced by Yumi Hara)

She is only a middle school student in real life, but as one of Brain Burst's senior players, she has a personality rich in judgment and composure. She uses a crescent-shaped Enhanced Armament called "Flame Caller" and excels in long-distance attacks.

■ Difference Between Sword Art Online and Accel World Characters

Accel World

—Accelerate

Quickly approach the enemy! Accel World characters, who fight on the ground, can accelerate to approach the enemy in a moment's notice. From this quick approach, they can unleash close-range attacks to take the enemy by surprise, as well as strike and again create distance.

—High Jump

Accel World characters excel at linear movement on the ground due to their acceleration, but by using a "High Jump," they can jump high altitudes in a straight line from the ground. This allows them to close in on flying monsters and fairies.

—Unique Abilities

Burst Linkers each have a Duel Avatar that fight with Enhanced Armaments and special abilities. It is important to master each character's special ability, such as riding a vehicle or unleashing a special attack.

Sword Art Online

—Take Flight

"Flight" is a special characteristic of ALfheim Online. Wings spring up from the back of the body and catch the wind, allowing you to freely fly about vast fields. Escape to the sky in order to get yourself organized, and unleash a unilateral attack from the sky.

—Use Magic

Upon logging into ALfheim Online, the Sword Art Online characters that become fairies are able to use magic. These, of course, include long-range attacks, and magic grows as you continue to use it. Combine magic with flight to control the distance of the enemy.

—Change Weapons

ALfheim Online avatars can change their weapons. For example, if you're using Kirito, you can switch from a one-handed sword to dual swords, etc. Compared to Accel WorldSword Art Online characters don't have a strong special trait, but are versatile types that can fight according to the situation.

■ Online Player-versus-Player

Compete your skills against other players using Accel World and Sword Art Online characters. The winner will receive a reward. "Acceleration" and "flight"—master each to get the better of battle.

■ Adventure with Up to 16 Players

Up to 16 people can adventure together in town and during stages. Collect items, level up, and overcome difficult obstacles with your friends.
Accel World VS Sword Art Online: Millennium Twilight will launch for PlayStation 4 and PS Vita on March 16 in Japan.
View the screenshots at the gallery.