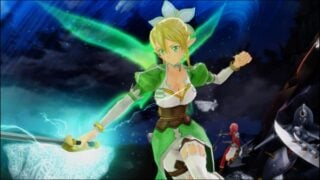 Bandai Namco has released new Accel World VS Sword Art Online: Millennium Twilight information and screenshots detailing the difference between Sword Art Online and Accel World characters, the base that is The Floating City of Ryne, and more characters.
Get the information below.
■ Difference Between Sword Art Online and Accel World Characters

Acceleration and Special Abilities VS Flight, Swords, and Magic

Each character from Accel World fights using acceleration and special abilities. Sword Art Online characters fight making use of flight, swords, and magic.

Accel World Character Abilities at a Glance

—Cyan Pile

He can use his "Pile Bunker" Enhanced Armament and attack enemies from a long distance.

—Ash Roller

She can ride her motorbike-type Enhanced Armament to move around and unleash charge attacks.

■ The Base: The Floating City of Ryne

A Town Where the Accelerated and Virtual Intersect

The accelerated world of Brain Burst has encroached on the virtual world of ALfheim Online. In The Floating City of Ryne, which acts as your base, the effects of the accelerated and virtual worlds crossing can be seen.

Shopping Area

Preparation is essential to your adventure in the virtual world eroded by the accelerated world. In the shopping area of The Floating City of Ryne, you'll find all you need for your adventure, including weapons and tools.

Cafeteria

There is also a cafeteria in the town. Adventurers can talk with their friends here, as well as spend time together to deepen their ties.

Fountain Plaza

Outside of the neon town overflowing with energy is a plaza with a water fountain. You can spend your off-time here, or arrange to meet with your allies before heading out on an adventure.

Mysterious Facility in the Sky

In the sky above The Floating City of Ryne is a mysterious facility floating in the sky. At first glance, it looks to be some sort of floating island, but…

■ Characters

Sinon (voiced by Miyuki Sawashiro)

A girl who, taking advantage a certain something, joined in on the Sword Art Online death game after it had already begun. She participates in ALfheim Online as a member of the Cait Sith race. She is strongly independent and extremely mature compared to others her age. Her main weapon is a bow.

Ash Roller / Rin Kusakabe (voiced by Kenichi Suzumura / Yuuka Nanri)

Haruyuki's (Silver Crow's) first battle opponent and friendly rival. He fights using the motorbike-type "Night Rocker" Enhanced Armament. In the real world, Ash Roller is actually Rin Kusakabe, a quiet girl.

Yuuki (voiced by Aoi Yuuki)

A go-getter swordswoman who possesses the name "Absolute Sword." Due to certain circumstances, she has extraordinary reaction speed in virtual reality MMOs. In ALfheim Online, she is a member of the Imp race. She fights wielding a one-handed sword.

Cyan Pile / Mayuzumi Takumu (voiced by Shintaro Asanuma)

Haruyuki's childhood friend and a member of Nega Nebulus. His duel avatar is a blue, close-quarters-type, but can use its "Pile Driver" Enhanced Armament to attack enemies from a distance.

Leafa (voiced by Ayana Taketatsu)

Kirito's younger sister, Suguha Kirigaya. She has been playing in the world of ALfheim Online since its early days and wields a one-handed sword. She is a player that excels in both her nimble nature and sword techniques.

Sky Raker / Kurasaki Fuuko (voiced by Aya Endo)

Kuroyukihime's close friend and the Legion Submaster of Nega Nebulus. Her duel avatar is sky blue. She fights using palm strikes and kicking techniques on top of her "Osmotic Strike Technique" ability.
Accel World VS Sword Art Online: Millennium Twilight will launch for PlayStation 4 and PS Vita on March 16 in Japan.
View the screenshots at the gallery.