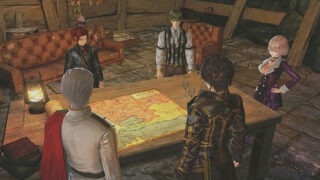 A PlayStation 4 demo for Valkyria Revolution will launch in Japan on December 22, followed by a PS Vita demo on December 26, Sega announced.
The "Prologue Demo" will let users play the prologue in its entirety. You'll be able to experience the first mission, in which key people such as the Circle of Five and Imperial Emperor appear. It also depicts how the war between the Jutland Kingdom and Rus Empire started, and the start of the protagonist's "revenge" hidden in the background of the war. Save data from the demo can be carried over to the full game when it launches and is also cross-save compatible.
Clearing the demo will earn you "Rush Blaze+" magic art, which lets you consecutively attack a single enemy with fire.
Valkyria Revolution is due out for PlayStation 4 and PS Vita on January 19 in Japan, and for PlayStation 4, Xbox One, and PS Vita in North America and Europe in Q2 2017.
View a new set of screenshots at the gallery.