Soulcalibur series 20th anniversary trailer
"The Legend Will Never Die."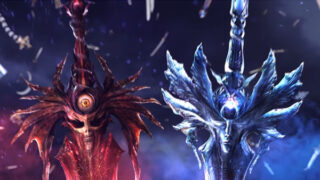 Bandai Namco has released a trailer celebrating the 20th anniversary of the Soulcalibur series.
The trailer highlights all of the Soulcalibur games released up until now, including Soul Edge (1996), Soulcalibur (1998), Soulcalibur II (2002), Soulcalibur III (2005), Soulcalibur IV (2008), Soulcalibur: Broken Destiny (2009), Soulcalibur V (2012), and Soulcalibur: Lost Swords (2014). There is nothing about the future, but if the tagline of the 20th anniversary logo is to go by, "The Legend Will Never Die."
Additionally, Bandai Namco announced that the Soucalibur series' first pachinko slot game, Pachislo Soulcalibur, will launch sequentially across Japan in January. The same press release reveals that total sales for the series have topped 14 million worldwide.
A new website for the Soulcalibur series has also been opened, but it currently redirects to a "test page." The link to the website is in the description of the 20th anniversary trailer. (Update 5:00 a.m.: The website is now live. It is a portal for the Soulcalibur series. There is also a 20th anniversary page.)
Watch the video below.