Gundam Versus adds Guncannon, Gouf, Kyrios, Tallgeese, Barbatos, more [Update]
Latest issue of Weekly Famitsu has alpha version hands-on report.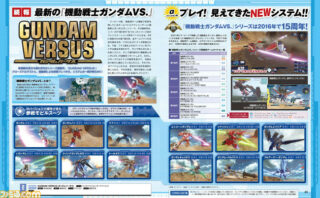 The latest issue of Weekly Famitsu has a hands-on gameplay report of the alpha version of Gundam Versus, Bandai Namco's new Gundam two-on-two battles game for PlayStation 4.
While the magazine's impressions have yet to leak, Famitsu's online preview does confirm 12 Mobile Suits set to appear in the game:
Gundam
Guncannon
Gouf
v-Gundam
Wing Gundam Zero
Tallgeese
Unicorn Gundam
Shinanju
Exia
Kyrios
Barbatos
Full Armor Gundam
A release date for Gundam Versus has yet to be announced. In addition to a Japanese release, an Asian English release is also planned.
Thanks, Famitsu.
Update 6:50 a.m.: These are some of the systems that were available in the closed alpha test Famtisu played:
Boost Dive

An action where you fall at high speed from an airborne state, which triggering cancels all of your actions. Since you can land instantly, you can shift the timing of your landing and reduce openings after using a weapon.

Striker Select

Strikers are allies that you can select and call upon at any time. During the closed alpha test, players were able to select two from three Strikers for each Mobile Suit. As time passes, your Striker Gauge will build up, allowing you to call upon your Striker. Screenshots in the magazine show GM, Ball, and Thunderbolt GM appear as Strikers.

Awakening System

You can choose from two types of gears, "Blaze Gear" and "Lightning Gear." Blaze Gear is an instantaneous-type awakening. When triggered, it has effects such as increasing your melee combat following ability. Lightning Gear is a continuation-type awakening. When triggered, it has effects such as increasing your lock-on range.
Thanks, Hachima Kikou.