The Flame in the Flood: Complete Edition announced for PS4
PS4 version offers gameplay enhancements and more.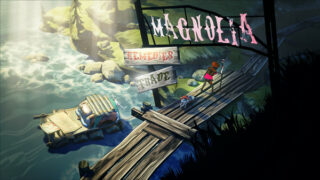 The Molasses Flood, in partnership with Curve Digital, will launch The Flame in the Flood: Complete Edition for PlayStation 4 in January 2017, the developer announced.
The PlayStation 4 version of the roguelike adventure game offers exclusive content over its previously released Xbox One and PC versions, including a host of gameplay enhancements, a brand new Directors' Commentary, a PlayStation 4 dynamic theme, and two PlayStation Network avatars.
Here's a brief overview of the game:
About

The Flame in the Flood: Complete Edition is a wilderness survival game in which a girl and her canine companion trek on foot and by raft down a procedurally-generated river. Scrounge for resources, craft tools, remedy afflictions, evade the vicious wildlife and, most importantly, stay healthy in a dangerous wilderness.
This Complete Edition also includes various gameplay enhancements and a Director's Commentary mode. PlayStation players will also get access to free Avatars and a Dynamic Theme when they purchase The Flame in the Flood.

Key Features

Journey down a procedurally generated river that changes with each with each playthrough.
Explore a unique post-societal world inspired by the beautiful, if deadly, backwaters of America.
Use real-life survival tactics to stay alive. Fend off hunger, dehydration and the ravenous wildlife that wants to eat you.
Survive long enough to see the end of the Story Mode or put your skills to test in the Endless Mode.
An original soundtrack by acclaimed Alt-Country rocker Chuck Ragan featuring The Camaraderie, The Fearless Kin and other special guests.
The Flame in the Flood: Complete Edition will be playable at PlayStation Experience in Anaheim, California from December 3 to 4.
Watch the announcement trailer below.