Dreadnought coming to PS4 in 2017
Class-based spaceship action game makes console-debut on PS4.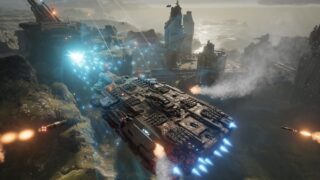 Dreadnought, the class-based spaceship action game from Yager, Grey Box, and Six Foot will make its console-exclusive debut on PlayStation 4 in 2017, Yager announced at PlayStation Experience 2016.
The game is currently in closed beta on PC and will eventually launch as a free-to-play PC and PlayStation 4.
Here's an overview of the PlayStation 4 version:
Developed for the PlayStation 4 system by lead-developer Yager and Iron Galaxy Studios under the direction of Six Foot and Grey Box, Dreadnought puts players in command of massive, powerful spaceships at the center of tactical team battles across a variety of competitive online multiplayer game modes. There are more than 50 playable vessels, each of which can be customized with a range of weapons, modules and cosmetic upgrades. There are five ship classes, specializing in vital roles like frontline assault, long-range bombardment, strategic support and more.
Watch the announcement trailer below. View a set of screenshots at the gallery.