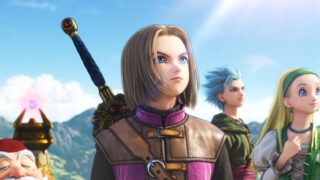 Square Enix revealed the opening movie, new details, and new gameplay footage of Dragon Quest XI: In Search of Departed Time during a Jump Festa 2017 stage event today. First and foremost, the game will launch for PlayStation 4 and 3DS in 2017. There was no mention of the Switch version, nor is it listed on the newly launched teaser website here.
The stage event featured game scenario writer and designer Yuuji Horii, producer Yosuke Saito, and director Takeshi Uchikawa.
First, we have official descriptions of the protagonist and the first party member:
Protagonist

A young man who lives in the calm village of Ishi. He was brought up soundly by the people of the warm village. The curtain opens on his adventure on the day he turns 16.

Camus

"I believe in it—the miracle of the hero."

A reliable partner. He is a blue-haired thief that the protagonist encounters on his journey. Although there is a rude side to his behavior and speech, he possesses a strong sense of duty and a warm heart. As a partner used to the ways of the world, he supports and guides the novice protagonist.
The world of Dragon Quest XI is called "Lotozetasia," which has a World Tree at its center. According to director Uchikawa, "It is a vast map comparable to previous Dragon Quest titles. It won't betray your expectations." Here's a look: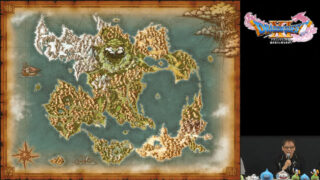 Some miscellaneous stuff: the series' familiar Casino and "Puff Puff" ability will return. You'll be able to play slots, poker, and mini-games that differ based on the hardware. The 3DS version will have support for StreetPass (different from Dragon Quest IX's treasure maps), while charming elements are also being prepared for the PlayStation 4 version.
Watch the footage below.
Opening Movie
Camus Introduction Scene
PlayStation 4 and 3DS Gameplay
Jump Festa 2017 Stage Event