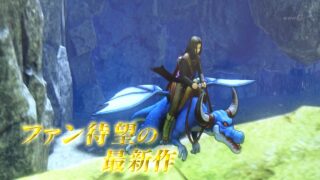 NHK General TV aired its Dragon Quest 30th anniversary special program today. While the program wasn't heavy on new information, there were a few interesting tidbits on the upcoming Dragon Quest XI: In Search of Departed Time.
Get the information below.
Camping

Players will be able to camp. This image shows a "Camp Menu" where players can rest (heals HP and MP), do "mysterious smithing," pray to the statue of the goddess, and patrol the area.

Mysterious Smithing (Fushigi na Kaji)

Another screen asks the player, "What do you want to create?" It offers the following options:

Copper Sword (Seidou no Tsurugi)
Iron Sword (Tetsu no Tsurugi)
Silver Rapier (Zan no Rapier)
Zombie Killer
Platinum Sword
Zombie Buster
Magic Swordsman Rapier (Makenshi no Rapier)
Fire Sword (Honoo no Tsurugi)
Metal Slime Sword (Metasura no Tsurugi)
Miracle Sword Modified (Kiseki no Tsurugi Kai)
Hayabusa Sword Modified (Hayabusa no Tsurugi Kai)
Inferno Sword

Each item in the smithing menu has a list of required items to create that item, a description, and difficulty level.

Dragon Riding

You can ride a dragon.

(GIF via NeoGAF user Kureneko0509.)

Field and Battle

Here is a GIF of the protagonist running around the field before a brief first look at the battle system.

(GIF via NeoGAF user Ranmafan.)
Dragon Quest XI: In Search of Departed Time is due out for PlayStation 4 and 3DS in 2017 in Japan. A Switch version is also planned, but has not yet been detailed. Catch the latest information here and footage here.
Watch all the new footage from the NHK broadcast below. (MP4 backup.)
https://www.youtube.com/watch?v=Z9aVIlHlDFc