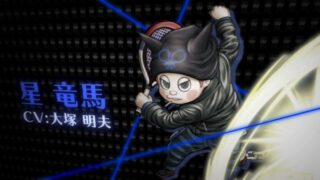 Spike Chunsoft has released new information, trailer, and screenshots for Danganronpa V3: Killing Harmony detailing the final set of characters—Ryouma Hoshi, Kaito Momota, Himiko Yumeno, Angie Yonaga, and Monodam—as well as the game's various bonus modes.
Get the information below.
■ Characters

Ryouma Hoshi (voiced by Akio Otsuka) – Ultimate Tennis Player

He was a tennis player with a promising future who was active worldwide and won overseas tournaments, but was sentenced to death when he shot at the heads of the mafia with custom-made steel tennis balls—"Murder Tennis"—and destroyed the organization. He was imprisoned before coming to The Academy for Gifted Prisoners, and says the person who was called the "Super High School Level Tennis Player" no longer exists within him. He has a composure that doesn't come off as that of a high school student, and his emotions are unaffected by his own injuries or if someone is killed.

Kaito Momota (voiced by Ryohei Kimura) – Ultimate Astronaut

An astronaut trainee. Since the test to become an astronaut requires a college degree, he was originally unable to take the exam, but used forged documents to take the test and became the first successful teenage applicant. Although his lie ended up being revealed, he was taken in as a trainee given his interesting talent. While he hasn't been to space yet, he has great admiration for the universe. He has amazing energy and values dreams and romance more than anything, saying passionate things like, "Limits don't exist unless you set a limit yourself" and "If you don't give it your all, your dreams will just be dreams."

Himiko Yumeno (voiced by Aimi Tanaka) – Ultimate Magician

She is the self-proclaimed "Super High School Level Magician" who insists her sleight of hand magic is magic. Although elected as the youngest among the generations of "Magicians of the Year" within "Magicians Castle," an organization composed of the sleight of hand magic lovers of the world, she herself claims that the award is a conspiracy devised to conceal the existence of magic. As a magician who cannot be recognized as a "magician," she laments the flood of performance requests she gets from all over the world. She is a magician ("magician"?) whose advanced techniques are in demand, but is extremely lazy. Sleight of hand? Or magic? She can guess your cards and coins, as well as unleash doves.

Angie Yonaga (voiced by Minori Suzuki) – Ultimate Artist

A deeply religious girl who believes that the "God of the Island" is always by her side. She makes paintings and sculptures, but says herself that, "Since I'm just lending my body to God, the one actually doing the creation is God." She is a positive girl who moves at her own pace, and uses peculiar Japanese like "fushigi miracle" (miraculous miracle) and "gubbainara" (goodbye + sayounara). She also has a strange side to her—rather than show off her artwork, she seeks to offer blood as a sacrifice and speaks on behalf of god as a voice of reason.

Monodam (voiced by Koichi Yamadera)

A Monokuma who shut out his heart due to bullying in his past, and barely converses with his Monokuma siblings. Unlike the other stuffed animal-like Monokumas, he is the only one with a robot-like body.

■ Bonus Modes

Super High School Level Talent Training Project

A mode where you'll develop each character through various events and interactions with other students. The characters you develop in this mode can be used in the "Dungeon of Despair: Monokuma's Trial" mode. Since it follows an "if" story where "the characters of V3 attend Hope's Peak Academy," all of the characters from Danganronpa 1 and Danganronpa 2 will also appear. The characters of em>Danganronpa 1 and Danganronpa 2 can also be playable by meeting certain requirements. When a character stops on a blue "Growth Square," they'll level up. The Yellow "Talent Square" gives you "Talent Fragments," which can be spent to learn and upgrade skills that will come in handy when taking on the dungeon. That's the main goal of this mode: to develop characters to take into the "Dungeon of Despair: Monokuma's Trial" mode.

Dungeon of Despair: Monokuma's Trial

An RPG mode where you can take on a dungeon using the characters you raised in the "Super High School Level Talent Training Project." While encountering and fighting against various types of Monokumas in the dungeon, and gathering money and materials, you'll aim to reach the depths of the 50-level dungeon. The materials you obtain from the Monokumas you battle can be used to create weapons and armor. You can have a maximum party of four characters in the dungeon. Since this mode doesn't develop your characters, the key to taking on the dungeon is training your characters in the "Super High School Level Talent Training Project" mode.

Card Death Machine

A mode where you can obtain cards by putting in the money you earn during the "Dungeon of Despair: Monokuma's Trial" mode. By obtaining new cards, you can unlock characters for use in the "Super High School Level Talent Training Project" mode. Cards have three levels of rarity, and the higher the rarity, the faster the growth speed in the "Super High School Level Talent Training Project" mode. The Card Death Machine will rank up the further you adventure into Monokuma's Dungeon, making it easier to obtain rare cards.

MonoMono Machine

You can obtain various items by putting Monokuma Medals, which you'll earn playing the game, into the MonoMono Machine. The higher the amount of Monokuma Medals you put in at once, the less the chances are of getting a duplicate item. Items obtained through the MonoMono Machine can be given as presents in order to deepen your interactions with other students. By raising your friendship levels with the other students, you can learn about their different sides.

Casino

By exchanging "Monokuma Medals" for casino coins, you can play at the casino's "Slot Machine" or become Monokuma and catch fish in "Sake no Tukamidori." You can trade-in the coins you earn for present items and skills.
Danganronpa V3: Killing Harmony is due out for PlayStation 4 and PS Vita in Japan on January 12, and in North America and Europe in 2017. A demo featuring an original story is due out in Japan on December 20.
Watch the trailer below. View a set of screenshots at the gallery.