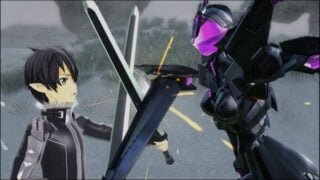 Bandai Namco has released new Accel World VS Sword Art Online: Millennium Twilight information and screenshots introducing the game's story, outline, battle system, and characters.
Get the information below.
■ Story

Kirito, Asuna, and Yui spent their days in peace in the VRMMO "ALfheim Onine," which is based on Norse mythology. But then, a sudden alarm went off.

"We will be carrying out urgent maintenance today starting now."

After hearing the announcement, Yui, who appears different than normal, heads off somewhere.

Chasing her, Kirito and Asuna are attacked by a mysterious black machine life-form.

"Let's go! My name is the Black King, Black Lotus!!"

Going beyond time, the accelerated worlds and virtual worlds collide—.

■ Game Outline

The world of Brain Burst encroaches on the world of ALfheim Online. A group of mysterious buildings appear in ALfheim Online. Players will be able to run on ground and dash through the skies of where Brain Burst and ALfheim Online intersect.

Through confrontations and battles, you'll approach the mystery of the accelerated world and virtual worlds crossing.

■ Battle System

Battles use the Ground-Sky Active Change Battle system, which allows you to form a party of three characters to fight both on the ground and in the sky. You can mix together Accel World and Sword Art Online characters, and freely switch between the player character in real-time.

■ Characters

Kirito (voiced by Yoshitsugu Matsuoka)

A young boy who wanders the worlds of VRMMMOs, from "Sword Art Online" to "ALfheim Online." He is a top-class player in VRMMO battle skills, and is referred to by some players as the "Black Swordsman." He uses a dual wielding battle style.

Black Lotus (voiced by Sachika Misawa)

The Pure Color Black King who leads "Nega Nebulus." As both of her arms and legs are swords, she also is known as the "Absolute Cut (World End)." She is a close-up attack specialist.

Asuna (voiced by Haruka Tomatsu)

A girl who was the sub-leader of Sword Art Online's foremost guild, the Knights of the Blood. After she met Kirito, she decided to live with him. She is known as the "Flash" thanks to her splendid sword techniques. She has kind manners, but a powerful core. She battles using a rapier.

Silver Crow (voiced by Yuki Kaiji)

A young boy who became a "Burst Linker," whose exceptional reaction speed is fixed upon by Kuroyukihime. His duel avatar is a slim, melee-type metal color. As the only one in the accelerated world with the ability to fly, he is known as the "Silver Crow."

Lisbeth (voiced by Ayahi Takagaki)

A survivor of the VRMMO Sword Art Online. In Sword Art Online, she was a blacksmith that forged weapons and armor. During the Sword Art Online period, she was asked to forge a sword by Kirito. She is a mood-maker who cheers up those around her. She battles using a mace.

Lime Bell (voiced by Aki Toyosaki)

Haruyuki's childhood friend. Her duel avatar is a bright green, defense-type. As she possesses the ability to reverse time, she is also known as the "Watch Witch." She fights as the healer of the group.

Silica (voiced by Rina Hidaka)

One of the Sword Art Online survivors. She is accompanied by her familiar, a small dragon named Pina. After she was saved by Kirito in Sword Art Online, she joined up with Kirito and company. She battles using a dagger to strike the enemy with quick attacks.

Scarlet Rain (voiced by Rina Hidaka)

The leader of the Red Legion, "Prominence," and the second and current Red King. She is known by the nicknames of "Immobile Fortress" and "Bloody Storm." She specializes in using firearms to attack enemies from a distance.
Accel World VS Sword Art Online: Millennium Twilight will launch for PlayStation 4 and PS Vita on March 16 in Japan.
View the screenshots at the gallery.