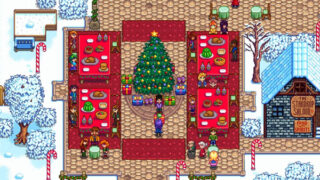 Stardew Valley will launch for PlayStation 4 on December 13 in North America, and for PlayStation 4 in Europe and Xbox One worldwide on December 14, developer ConcernedApe announced.
Pre-orders for the Xbox One version and the European PlayStation 4 version will begin on November 30.
The previously announced Wii U version of Stardew Valley has been cancelled. Here is a message from Eric Barone, the creator of the game Stardew Valley, regarding the cancelled release:
Stardew Valley will not be coming to the Wii U, however. Looking at Wii U and the current gaming landscape, we made the difficult choice to shift our development efforts to creating a version for Nintendo Switch. I am really looking forward to the Switch, and I believe that the Switch's unique capabilities could create some exciting opportunities for Stardew Valley. I do want to emphasize that I am absolutely committed to seeing Stardew Valley on Nintendo platforms, and I really do appreciate your support and understanding in this.
And here are some details about the game, via Barone on Xbox Wire:
In Stardew Valley, you start with an overgrown plot of land, a few hand-me-down tools, and a small amount of money. What you use them for is up to you! Stardew Valley is a country-life role playing game in which you make a new life for yourself by living off the land and getting to know the local townspeople. There are many ways to find success… try your hand at farming, fishing, mining, foraging, fighting monsters, and raising animals.

While making a living is an important part of your new life, you'll also want to make friends with the locals. As you get to know people, you'll learn more about their personalities and stories. You can even get married and have kids!

I spent over four years developing Stardew Valley, inspired by games that I loved as a child such as Harvest Moon and Animal Crossing. Although the idea of a "farming RPG" might have seemed odd at first, the games were very addictive and had a heartwarming charm that stuck with me. With Stardew Valley, my goal was to recreate that special feeling and bring it to modern platforms.
Watch a new trailer below.