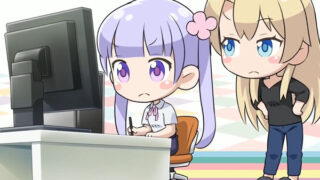 5pb. has released the opening movie for New Game! The Challenge Stage, its upcoming adventure game based on the popular anime and manga.
In New Game! The Challenge Stage, players take on the role of Aoba Suzukaze, who is tasked with creating add-on downloadable content for Fairies Story 3. Training parts see players learn skills from their more experience co-workers, with parameters changing based on which co-workers you learn from. Adventure Parts will advance the story, and friendships will change based on your responses. Later on, you'll be able to enjoy the individual episodes of the co-workers you befriended earlier on.
New Game! The Challenge Stage will launch for PlayStation 4 and PS Vita in Japan on January 26, 2017. It will cost 7,300 yen for the physical version, 7,000 yen for the digital version, and 10,300 yen for the limited edition including an Aoba Suzukaze SD figure, official soundtrack CD, and Bunny costume downloadable content. The Bunny costume will also be included with all copies as a first-print bonus.
Watch the video below.
(MP4 Download, Region-blocked YouTube Version)