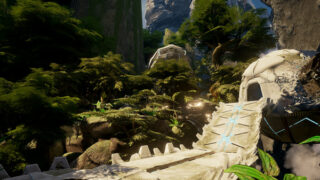 Obduction, the new game from Myst studio Cyan out now for PC, is coming to PlayStation 4, PlayStation VR, and Vive in 2017, the studio announced.
"We're going all-in on VR," Cyan CEO Rand Miller told VentureBeat. "And the PlayStation breaks open our availability as a much broader platform for us. I [was] amazed at how good this looks on a console."
Cyan has already begun work on adding support for hand controls and room scale, the former of which will allow players to directly interact with objects in the world, including picking up and examining objects.
The developer says Obduction for virtual reality is "just the beginning" of Cyan's projects in the virtual reality market.
Here's an overview of the game, via its Steam page:
From Cyan, the studio that brought you Myst, comes Obduction, an all-new adventure that brings the spirit of Cyan's earlier games into the new millennium. Obduction resurrects the feeling of finding yourself in the middle of new worlds to explore, discover, solve, and become part of.

As you walk beside the lake on a cloudy night, a curious, organic artifact falls from the sky and inexplicably, without asking permission, transports you across the universe.

The worlds of Obduction reveal their secrets only as you explore, coax, and consider them. And as you bask in the otherworldly beauty and explore through the enigmatic landscapes, remember that the choices you make will have substantial consequences.

Obduction. This is your story now.
Watch the launch trailer for the PC version below.