Miitopia first details, footage
Support your Miis on an adventure to stop the Demon King.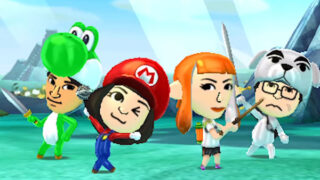 Nintendo detailed Miitopia, its new 3DS game recently dated for a December 8 release in Japan, during a Nintendo Direct broadcast earlier today.
The story is set in "Miitopia," where Miis live in peace and harmony. But a Great Demon King suddenly appears on this land and steals the faces of each Mii one by one. The Great Demon King plunges Miitopia into chaos, creating monsters using the stolen faces. The heroes of this story are the player's Miis, who go on an adventure to defeat the Great Demon King. Miitopia is a "watch over simulation" game where you watch over and support your Miis on their adventure.
All the inhabitants of Miitopia are Miis. The protagonist, your comrades, the king, the princess, the townspeople, and even the Great Demon King. All of the characters that appear can be set as your favorite Miis.
You can also set personality traits, like "kind," "lively," "moves at their own pace," "cool," and so on. You'll be able take various actions during your adventure based on these traits.
There are 12 jobs, or character classes, including "Soldier," "Magician," and "Thief." Some of them can even change into other things like "Idols" and "Tanks."
Along your adventure, you'll face many monsters with stolen faces. A comical battle overflowing with human charm will unfold based on your Miis' job, personality, and human connections.
By having your Miis get along with each other, you'll enable "Favorability Actions" and gain the upper hand in battle. If you assign your Miis to the same room at the inn, their "Favorability Level" will increase, and they'll learn various Favorability Actions. Your Favorability Level will also rise through battles and various events.
When your Miis' HP and MP are low and you're in a pinch, the player can use their divine powers to support them in battle.
During your journey, you'll be able to stay at inns, where in addition to enjoying fun interactions between Miis, you'll also be able to raise their human connections, boost their abilities, buy strong equipment, and so on. It's a place where you can carry out various support-related tasks that will provide them an edge in battle.
As mentioned earlier, by assigning Miis to the same room at the inn, you'll raise their "Favorability Level," which will let you learn various actions for use in battle.
By eating, your Miis' HP, MP, attack, defense, and so on will increase. You can acquire food by winning battles. Miis also have certain foods they like and dislike, so you can grow their abilities even further by giving them the foods they like.
You can also give your Miis money to buy new weapons, clothing, and such. Though sometimes they might buy something different than what they initially told you they wanted.
Miitopia is due out for 3DS as both a physical and digital title in Japan on December 8 for 4,700 yen.
Watch the full Nintendo Direct presentation below.
https://www.youtube.com/watch?v=1iB-pnZc4DI
Thanks, Games Talk.