Gun Gun Pixies first details from Dengeki PlayStation
Don't get spotted by a human.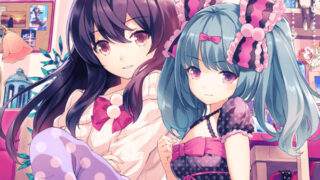 The latest issue of Dengeki PlayStation has new details on Compile Heart and Shade's newly announced third-person shooter Gun Gun Pixies, due out for PS Vita in Japan in 2017.
The people of Pandemo, the mother planet of the protagonists, regularly plunder different planets. As a result, outsiders could not be trusted and there was an extreme lack of communication. People are not getting married and the planet is in decline, so it was decided to investigate interactions among earthlings to break the situation.
Gun Gun Pixies is a third-person shooter-type gun action adventure game. Players take on the role of palm-size alien girls on a mission to infiltrate a women's dormitory. While exploring huge rooms, you'll fire at strange objects. By doing such, you'll cause some sort of changes in the residents of the room. If you're spotted, you'll get a game over. And of course, you can also sneak into baths as well.
The two protagonists include:
Bii-tan (Usamail) (voiced by Marika Kono) – A delinquent soldier. She loves cute women more than anyone.
Kame-pon (Kameriel) (voiced by Yuka Otsubo) – A delinquent soldier. Although she acts chill, she actually loves her partner Biitan.
The women of the dormitory include:
Amayo Sato (voiced by Minami Takahashi)
Minami Kaima (voiced by Ibuki Kido)
Kira Torii (voiced by Atsuko Kato)
Misa Torii (voiced by Ayaka Imamura)
Eri Torii (voiced by Atsumi Tanezaki)
Here are a few interview tidbits from the magazine:
The genre is third-person shooter, but there are also many adventure scenes.
It's PS Vita-only because playing on a small screen matches with the story.
The women's dormitory is the target because who knows what kinds of mistakes they'd make if they sent you to a men's location.
The gun is loaded with "Happy Bullets," which cure the tired girls of their stiff shoulders when they're shot.
There are enemies that will try to hinder your mission.
20 types of underwear are being prepared, which change on a daily basis.
You can even cling to their butts.
There is costume destruction for the protagonists. Their skin will be revealed as they receive enemy attacks. There are tentacles, too.
If you missed it, catch the teaser trailer here.
Thanks, Hachima Kikou.