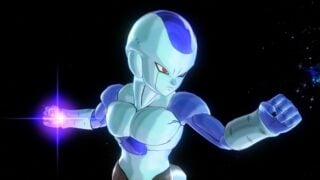 Bandai Namco has shared details on the first downloadable expansion pack and free updates coming to Dragon Ball Xenoverse 2.
The first expansion pack, available through Season Pass and purchasable individually, will include two new characters—Cabbe and Frost—as well as new parallel quests, costumes, attacks, and more.
The free update will offer new skills, new costumes, and new attacks. All players will also be able to enjoy a new "Frieza Siege Event" in which they will have to defeat Frieza's army in Conton City. Winners will be rewarded with 10 exclusive "Jersey" costumes. A new raid boss has also been added—the "Yamcha Raid Boss"—in which players will fight against the Evil Yamcha to earn a special title.
In Europe, Bandai Namco will offer five new teachers to its VIP corner (Future Gohan, Bardock, Cooler, Android 16 and Whis).
Dragon Ball Xenoverse 2 is now available for PlayStation 4, Xbox One, and PC.
View the screenshots at the gallery.