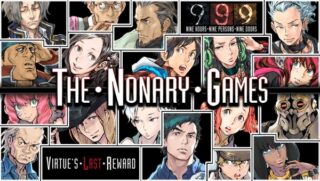 Aksys Games and Spike Chunsoft have announced Zero Escape: The Nonary Games—a double pack including Zero Escape: Nine Hours, Nine Persons, Nine Doors (999) and Zero Escape: Virtue's Last Reward—launching both physically and digitally for PlayStation 4 and PS Vita in spring 2017 in North America and Europe. (Update: Spike Chunsoft will also release a PC version via Steam.)
999 has been rebuilt from the ground up and now features high-definition graphics in addition to English and Japanese voice acting.
Here's an overview of the double pack, via Aksys Games:
So what exactly is a Nonary Game? In essence, the game contains nine "players" or participants. You assume the role of one of these participants and compete towards a common goal. "No big deal, I love a good, friendly competition!" you say to yourself. Well, not so fast… The rules of each game vary from title to title, but the end goal is always the same: you must fight for survival and do everything in your power to escape with your life! That's right, the price for losing this game is death. Did we mention that you've been "entered" against your will?

The main antagonist in both games is the enigmatic Zero. Who is Zero? What does Zero want? Why are you in this situation to begin with? Fair questions to be sure, but to answer any of these would simply ruin the experience! A special feature of each Nonary Game is the implementation of a watch-like device, which is attached to each participant's wrist. Unique to each game, the watch serves a few sinister functions, most notably as the very probable agent of your demise! Needless to say, your quest will focus on solving the mystery of your surroundings and successfully removing the lethal time piece.

The Zero Escape franchise is renowned for its engrossing narrative and complex story, and The Nonary Games collection serves as the definitive version of the first two games. For both the uninitiated and seasoned escapists, The Nonary Games is the perfect gateway into this deadly and thought-provoking world.
View the first set of screenshots at the gallery.