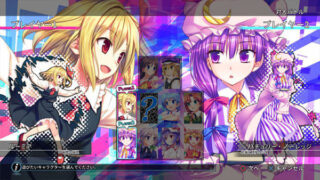 Touhou Project 3D fighting action game Touhou Koubuto V, which was previously planned for digital release across PlayStation 4 and PS Vita in Japan on November 3, will now launch on November 2, developer Cubetype announced.
Here's an overview of the game:
About

Touhou Koubuto V is one-on-one 3D fighting action game where players battle it out in 3D spaces, hitting opponents with barrages of bullets and melee attacks to achieve victory. In addition to versatile controls based on button combinations, linked attacks born through "Cancels" will provide even greater variety.

Enjoy a Variety of Game Modes

Touhou Koubuto V features a variety of game modes that you can enjoy by yourself or against other players.

Both the PlayStation 4 and PS Vita versions feature the single-player "Scenario Mode" where you pursue an accident that happened in Gensokyo. There are different scenarios for each character, as well as illustrations and background music to enjoy. The "Arcade Mode" and "Score Attack Mode" feature PlayStation Network ranking support
The PlayStation 4 version features split-screen-supported offline battles, as well as two types of online battles via PlayStation Network.
The PS Vita version features ad-hoc-supported battles.
There is also a training mode.

Link with Touhou Genso Rondo: Bullet Ballet

If you own Cubetype's previous PlayStation 4 game, Touhou Genso Rondo: Bullet Ballet (which only launched digitally in Japan), you'll be able to "participate in a Touhou Genso Rondo online battle from Touhou Koubuto V." This is an innovative feature that omits the trouble of going back and forth between games and relaunching.

PlayStation VR Support

An update to the PlayStation 4 version due out later on will add PlayStation VR support. This will be available in CPU battles, training, and personal battles. Head tracking is also supported. The point of view through PlayStation VR is the same as standard mode, where you see the character in a third-person view from a distance. Personal battles feature a social screen function where you can carry out PlayStation VR vs. TV screen battles. There are 10 types of camera options available.

Purchase Bonuses

Users who purchase Touhou Koubuto V will get a free PlayStation 4 or PS Vita theme depending on which version is purchased.

While the price of the game is 3,000 yen and it is not cross-buy, users who buy one version will be able to purchase the other version for 2,000 yen.
Watch a new trailer below. View a set of screenshots at the gallery.