Mary Skelter story trailer, Huge Nightmare details
Giant Nightmares that tower three-to-four stories.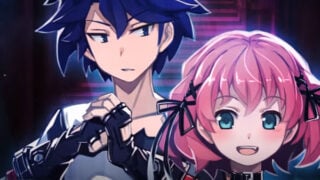 Compile Heart has released a new trailer for Divine Prison Tower: Mary Skelter introducing the PS Vita dungeon RPG's story, as well as detailed "Huge Nightmares," the game's mega-bosses.
Here are the new details, via the official website:
As you advance through the story, not only will you encounter Nightmares in the dungeon, you'll also encounter Huge Nightmares. These Nightmares are special monsters that tower three-to-four stories tall. You'll fight these creatures in dynamic battles while moving about each level and attacking its body parts until it's fully destroyed.

There are times when a Huge Nightmare's attacks will directly strike the map on which the player is standing. When a part of the map is highlighted red, like in the screenshot above, it means the Huge Nightmare is about to attack. Escape its attack range before it strikes.

You'll find special devices on the map when you're fighting against a Huge Nightmare. By making use of the Chishiki Girls' abilities, you'll be able to use these devices to deal great damage to the Nightmare.
If you missed them, previous updates detailed purification, skill expansion, level degeneration, quests, weapon upgrades, The Solar Order, Job System, the Jail and Confinement Areas, the Liberation District, Dawn Liberation Front, the Chishiki Girls, Blood Skelter mode, the protagonist's actions, the three major desires, the basics of battle, Nightmare Battles, characters Princess Kaguya and Rapunzel, Thumbelina, Snow White, and Sleeping Beauty, as well as the setting, and characters Jack, Alice, and Little Red Riding Hood.
Divine Prison Tower: Mary Skelter is due out in Japan on October 13. Famitsu awarded the game a 32 out of 40 review score.
Watch the trailer below.