Koei Tecmo's Ruby Party announces Attack on Titan adventure game for 3DS
Development currently 30 percent complete.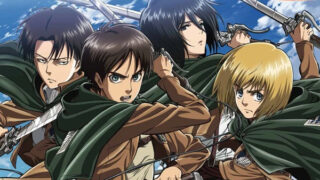 A new Attack on Titan game is in development for 3DS, the latest issue of Weekly Famitsu reveals. Attack on Titan: Escape from Certain Death is an adventure game themed around the TV anime from Koei Tecmo's Ruby Party, who are responsible for their Neo Romance series, in collaboration with the TV anime's visual staff.
The game follows an original story set in a certain old castle. The protagonist is an original character who belongs to the Survey Corps. In a desperate situation after losing their equipment and getting lost in the castle, players must attempt to escape alongside familiar characters from the series. When you start the game, you can select the protagonist's gender. If you select a male, Mikasa will be your partner, and if you select a female, Levi will be your partner. As the story progresses, you'll be able to take action with various characters. The story takes place before the encounter with the Female Titan.
Development is currently 30 percent complete. A release date was not announced.
Thanks, Hachima Kikou.