First look at Attack on Titan: Escape from Certain Death
Ruby Party's Attack on Titan adventure game.
Famitsu has gone live with its first online preview of Attack on Titan: Escape from Certain Death, Koei Tecmo's newly announced Attack on Titan game for 3DS from its Ruby Party brand, who normally handles the company's Neo Romance series games.
The game follows an original story with an original protagonist and is set in a certain old castle. The player is a member of the Survey Corps investigating the dangerous world "outside the wall," and must attempt to escape the old castle alongside familiar series characters.
Here's an overview of the story:
While investigating the outskirts of a certain old castle, the Survey Corps are caught in a Titan assault. The ground collapses amid the chaos, and the protagonist ends up falling into an underground part of the old castle. Just narrowly escaping death, the protagonist cannot return to the surface as their Three Dimensional Maneuver Gear has broken. The protagonist links up with a single "partner" and attempts to escape the castle underground shrouded in mystery, but…?
Here are some screenshots: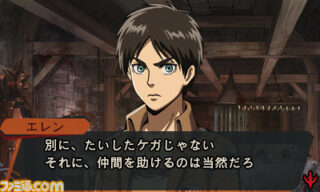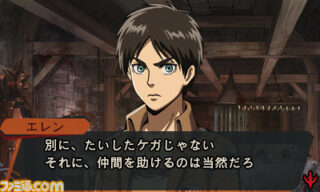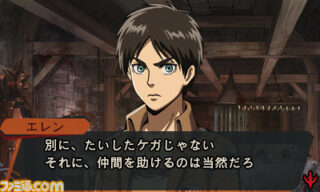 A release date has yet to be announced.