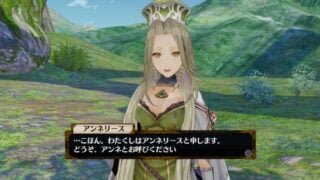 Gust has shared another new information and screenshots of Atelier Firis: The Alchemist and the Mysterious Journey ahead of its November 2 in launch in Japan. This time, we're introduced to characters Annnelies, Tiana, and Fritz, as well as provided a general overview of the game flow.
Get the information below.
■ Characters

Annnelies Exner

Age: 29
Occupation: Librarian
Voiced by: Saori Terai
Illustrated by: Yuugen

A woman who works as the lead librarian at an institution known as the "Information Institute," where they gather information from adventurers. She is very serious and of quite high ranking. She is clearheaded and her ability to decipher things such as ancient documents is unmatched by any other. However, she is unbelievably clumsy and often causes unexpected trouble.

Tiana Paschen

Age: 16
Occupation: Traveler
Voiced by: Megumi Toda
Illustrated by: NOCO

A bright and honest girl who would aimlessly leave the house, and with that disposition became an adventurer. She is always in high spirits, and energetic in any situation. She is restless and bad at staying in one place, and sells the items she obtains on her travels, which she calls the "Tiana Selection," to Firis.

Fritz Weissberg

Age: 55
Occupation: Puppeteer
Voiced by: Kenyu Horiuchi
Illustrated by: Yuugen

A doll maker traveling with the goal of putting on the greatest puppet show. He is usually knowledgeable and composed, but his personality completely changes when it comes to dolls. As a former mercenary, he possesses remarkable skills with a sword. His daughter is Drossel, the playwright.

■ The Start of Your Journey to Becoming an Official Alchemist

In order to continue her journey in the outside world, Firis must pass the test to become a Certified Alchemist that will be held a year later. But first, she needs to collect letters of recommendation in order to take the test, so she travels to various places with her older sister Liane in order to do so.

■ Taking on the Official Alchemy Exam

After gathering the letters of recommendation, Firis will finally be able to take the test to become a Certified Alchemist. There are three tests within the exam that will test Firis' abilities. They consist of the "Written Exam," "Synthesis Exam," and "Practical Skill Exam."

—The Written Exam tests Firis' knowledge. Answer the correct choices within the given time limit.

—For the Synthesis Exam, you'll be tested on how many high-quality items you can create within the time limit.

—For the Practical Skills Exam, you'll be tested on your fighting strength as an alchemist to see the culmination of Firis' growth on her journey so far.

■ Things You Can Do in the Field

You'll be able to do various things in the fields that you pass through on your journey, including making new discoveries and encounters.

—There are a countless number of "landmarks" on the field that, once discovered, are recorded on the map. Since you can move between landmarks in an instant, it is recommended you look for them as soon as you reach a new field.

—Fields are not only above ground. You can travel to various places both underwater and underground.

—You can fish at specific areas. There are some materials you can only get by fishing.

—You may also run into dangerous monsters. These monsters will appear as a special icon on the mini-map, which is located at the top right of the screen.

—You can gather materials using synthesized items. By gathering materials using items, it's possible to obtain materials you wouldn't normally obtain.

■ Chain Quests

Every so often on the field you'll encounter a quest. Among them are Chain Quests that generally have a big effect on the field. In the case shown in the screenshots below, the Chain Quest results in the development of a bridge.

■ Carry Your Atelier Anywhere

—At places where there are bonfires, you can summon your atelier studio.

—To synthesize, you'll arrange your materials on a grid of panels. By using a catalyst, you can attach new effects to the synthesized item.

—With "Superdreadnought Synthesis," you can use many materials to create a single item. The completed item will have a big influence on Firis' journey.

■ Atelier Make

With Atelier Make, you can decorate the inside of your atelier studio with a variety of furniture. Some furniture may also have special effects.

■ Battle

Battles are turn-based, meaning characters take action when it's their turn to act, and you'll gain the upper hand in battle by stopping the monsters' actions. In battles against formidable enemies, you should aim for a "Break," which stops the action order by stunning the enemy.

There are a variety of powerful items that can strike monsters in a single blow. Since item use is not limited to alchemists, it's important to always be mindful of which items you have.

■ Chain Bursts

By filling up your gauge, you can perform a combination attack called a "Chain Burst." During Chain Burst Mode, the final attack will change based on the content of the combination attack.

—In the upper left corner of the screenshot below, we see the player's "Linkage" is at 130 percent, in this case seeing three or more characters able to cooperate and trigger a "Chain Strike." The character that attacks first will pursue the monster with a special attack.

■ Chain Finishes

When your Linkage is greater than 150 percent, as seen in the screenshot below, you can cooperate with three or more characters and trigger a "Chain Finish." The character that attacks first will be deal great damage to the monster with a big technique.

■ The Friends that Travel with Firis

Firis will make many friends on her journey, each possessing their own characteristics and charm. With these friends and her journey, Firis will walk the path to becoming an alchemist while experiencing various things and influencing one another.
Atelier Firis: The Alchemist and the Mysterious Journey is the first title in Gust's "Beautiful Girls Festival." It will launch for PlayStation 4 and PS Vita in Japan on November 2, followed by a western release on an unannounced date.
View the screenshots at the gallery.