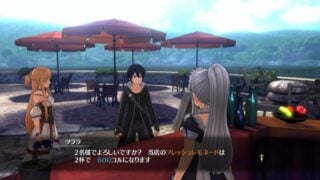 Bandai Namco has shared new information and screenshots of Sword Art Online: Hollow Realization and confirmed the Tokyo Game Show 2016-announced Season Pass for release in the west.
Get the details below.
Blacksmith

Thanks to the Blacksmith, craftsmen with various skills and abilities spread everywhere in Ainground, players will be able to improve their weapons. Each Blacksmith has different forge skills and will help players to strengthen all their kind of equipment. To do so, players will have to provide materials and fees to the Blacksmith. Also, different levels of improvement are available: the higher is the level, the harder will be the improvement.

Town of Beginning

In addition, new places from the Town of the Beginning have been revealed. Players will have a walk on the Transition Gate Square, where all the adventures are be available through gates, the Shopping Arcade, where players can buy loads of items, the Observation Platform, where a wonderful view of the town is available, the Park by the Lake, full of cafés and stores, and the Room of Kirito, where players can customize their avatars and where they can discuss with their team mates.

Season Pass and Digital Pre-Orders

The Sword Art Online: Hollow Realization Season Pass will include three downloadable content packs consisting of stages and maps, quests and scenario events, bosses and enemies, and new characters.

In Europe, the Season Pass will include different costumes as bonuses: the Navy Blue Swimwear, the White Swimwear and the Wedding Dress. Furthermore, for VIP members, an exclusive Maid Costume will be available for free on November 8th on the VIP Corner, while stocks last.

In North America, the Season Pass will cost $24.99. Pre-orders for the PlayStation 4 version of the digital edition of the game will include a premium theme, Nightwear costume (for female characters), Maid costume (for female characters), God Eater Soma costume (for male characters), and God Eater Livie costume (for female characters). A Digital Deluxe Edition of the game, which includes the main game, Season Pass content, and all the pre-order bonuses, will be available for $84.99.

Read more about the three downloadable content packs here.
View the screenshots at the gallery.
Watch the English version of the Tokyo Game Show 2016 trailer below.