SaGa: Scarlet Grace launches December 15 in Japan
New trailer released for the PS Vita RPG.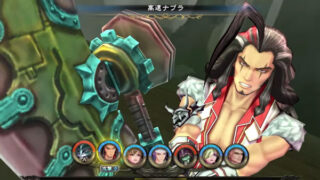 SaGa: Scarlet Grace will launch for PS Vita in Japan on December 15 for 6,800 yen, Square Enix announced at the 2016 PlayStation Press Conference in Japan.
A Square Enix e-Store-exclusive limited edition will be available for 18,000 yen and include a copy of the game, soundtrack CD, Tomomi Kobayashi illustration board book, illustration card game, in-game items, and a special box.
On Twitter (2), SaGa series creator Akitoshi Kawazu said that the game will not support PlayStation TV, as it was forced to abandon the hardware in order to maximize the game's performance on PS Vita.
The game follows a multi-layered story featuring several protagonists. Freedom is at its highest with a free scenario, and players will battle and grow through a special development system without levels.
Here's an overview of the story, via the official website:
Firebringer—an evil god, banished by the star gods for his betrayal. He is turned into a comet and sent away. Other dark demons that have been suppressed begin to become violent and the world falls into chaos.

The star gods grant power to one man. He leads the people in a war against Firebringer and establishes an empire.

The dark demons are pushed underground, and the evil god's star leaves. After that, the evil god's star returns every 150 years. For ages and ages, they meet Firebringer and his demons in battle.

Over time there are emperors who prepare diligently and defeat the evil god easily, but there are also emperors who are careless and drive the world into ruin.

Finally, after a seventh invasion, the evil god's star was decimated. The war that lasted 1,000 years is brought to an abrupt stop. The people rejoiced to usher in peace.

Fragments of Firebringer rain down onto the earth, like fireworks celebrating the victory of the humans and star gods. If Firebringer is extinguished, even the empire would become unnecessary.

The empire continues to rule, and many places react with rebellion. This ties into a civil war by the emperor's son and company. Amidst the chaos, a hero brings down Firebringer, the emperor is assassinated, and the empire collapses.

70 years later.

Hardly anyone who remembers the era of the empire is around anymore. The world remains in chaos. No one notices a new danger approaching. However, a new hero arises for the new era.
Watch a new trailer below. View a new set of screenshots at the gallery.