Haunted Castle, Thunder Cross, The Ninja Warriors, more coming to PS4 Arcade Archives
Seven new titles confirmed for release.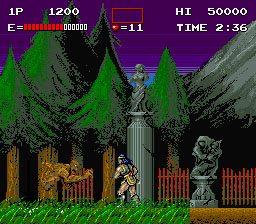 Hamster has announced the latest titles in its lineup of Arcade Archives re-releases for PlayStation 4.
The following new titles are planned:
Atomic Robo-Kid (UPL)
Terra Force (Nichibutsu)
Haunted Castle (Konami)
Ark Area (UPL)
The Ninja Warriors (Taito)
Mutant Night (UPL)
Thunder Cross (Konami)
Release windows were not announced.
Thanks, Game Kana.
(Editor's Note: This post originally listed Haunted Castle as Castlevania. Both games are titled Akumajou Dracula in Japan, thus the confusion. Haunted Castle is the first arcade entry in the Castlevania series.)