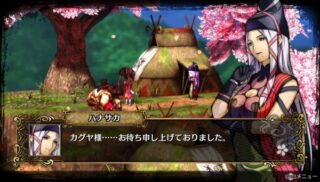 Kadokawa Games has introduced two new characters set to appear in its PlayStation 4 and PS Vita tactics RPG God Wars.
Get the information below.
Hanasaka (voiced by Miki Ito)

One of the eight million gods who once served Tsukuyomi. She is a renowned as a woman of knowledge and you can't guess her age from her looks. 13 years ago her heart wept at the circumstances of Sakuya's sacrifice, and now, she lives a secluded life in Kakamigahara's Kagamitsukuribe Village.

Katsuragi (Kenji Sugimura)

A large man comes from a lineage of demons, and a member of the Iron Manufacture Engineering Group. He runs a iron working shop in Ibukiyama. It is said that he was once a man of good disposition, but for some reason recently has been violent towards the villagers at the base of the mountain.
God Wars is due out for PlayStation 4 and PS Vita in Japan in 2016. A final release date will be announced at Tokyo Game Show 2016 on September 18. A worldwide release is also planned. A PlayStation 4 demo is due out via the Japanese PlayStation Store on September 5.
View the screenshots at the gallery.