God Eater New Project announced for console
Producer Yusuke Tomizawa wears t-shirt with the number "3."
Bandai Namco has begun development on a new God Eater project for console, the company announced during the God Eater Online presentation at Tokyo Game Show 2016. The announcement was made by both Bandai Namco's Japanese and American divisions.
Bandai
God Eater series producer Yusuke Tomizawa shared a short teaser trailer for the game, which is still without a title, platform, or release date. The text in the trailer reads, "It has been three days since I arrived at the Fenrir HQ area. Once proud Guardians of humanity, whose hope and prosperity have since gone. The fall of those called GOD starts now."
While Tomizawa couldn't say more, it should be noted that he was wearing a t-shirt with the number "3," perhaps hinting the new title is "God Eater 3."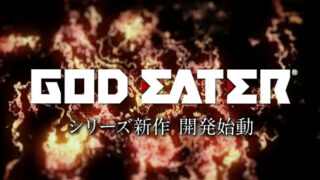 Watch the teaser trailer below.
(Editor's Note: In Japanese, the word we're translating as "console" is generally associated with all consumer game systems, both stationary and handheld.)