Demon Gaze II free extra content 'Call of The Grimodar' screenshots
Additional content due out this fall in Japan.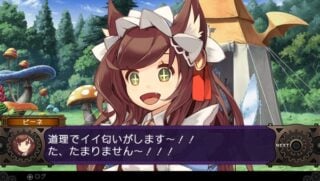 Kadokawa Games and Experience have released the first set of screenshots from Demon Gaze II's free additional content, "Yagyuu Demon Slaying Chronicle: Call of The Grimodar."
The additional content, due out this fall and said to have nearly the same volume as the main story and offer a hardcore gameplay experience, features script and supervision by Benny Matsuyama and character designs by Bastard!! manga artist Kazushi Hagiwara. It can be accessed after the main story is cleared.
—The story begins with an SOS on the radio. "Can anybody hear me? Please save me! SOS, SOS… This is a state of emergency!"
—Pinay, the Dragon Princess Inn employee from the previous game. This time she is the assistant manager, but she still has the same habit of sniffing around.
—The Dragon Princess Inn from the previous game. Mushrooms are growing all over it. What could have happened to completely change its appearance?
—Grimodar Castle, the fated place that tormented a number of players in the previous game. Even now, it is a place people do not visit.
—In exploring the reborn Grimodar Castle, the hero and his party are fiercely attacked by a demon named Eris, kicking off a battle to the death that crosses generations of demons new and old.
—A mysterious swordswoman blocks your path. Is she the character that holds the key to the story?
Demon Gaze II is due out for PS Vita on September 29 in Japan.
View the screenshots in high-res at the gallery.