Bit.Trip Runner3 announced
Third entry due out in 2017.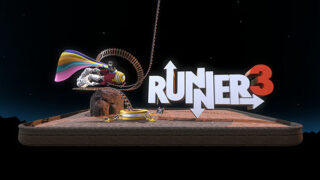 Choice Provisions has announced Runner3, the third entry in its Bit.Trip Runner series due out in 2017.
The studio says it will be "very open" about the development of Runner3, and plans to solicit feedback and offer user polls to give people a chance to help think of things like level names, unlockable outfits, and more.
A development blog at the Runner3 official website offers a bit more insight.
"In Runner3, we're focusing on bringing our notions of difficulty and what makes a game rewarding front and center," reads a post. "The focus in Runner3 is on giving the player a joyous experience. In fact, one of our development pillars for the game is: 'Runner3 needs to be a joyous experience in every moment–both in the game, and during its creation.'
"If you like being challenged relentlessly, will you get that? Yes. (It is us, after all.) But if you prefer being able to experience the entire game without being ultra-challenged, you'll be able to do that as well–without penalty. We have some very interesting tricks up our sleeve as to how we're going to accomplish this, and we'll be revealing them here over the course of development, so keep checking back."
Watch the Runner3 teaser trailer below.