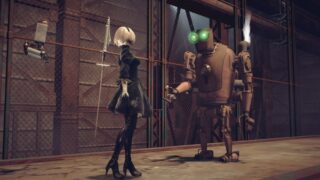 Square Enix debuted 24 minutes of gameplay from NieR: Automata during the game's Tokyo Game Show 2016 stage event.
YoRHa No.2 Type B running through an industrial level with Pascal, one of the newly announced characters. Afterwards, we get a look at a "Time Attack" mode.
The same stage event was used to announce the NieR: Automata demo and Japanese "Black Box Edition" limited edition.
NieR: Automata will launch for PlayStation 4 in Japan on February 23. It is due out for PlayStation 4 and PC in early 2017 in North America and Europe.
Watch the footage below. (Starts at 20:57, ends at 44:42.)