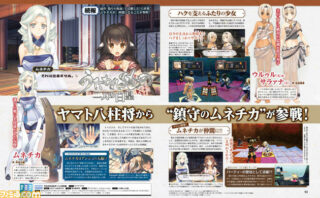 Munechika, one of the Eight Pillar Generals of Yamato, will appear as a playable ally character for the first time in Utawarerumono: The Two Hakuoros, the latest issue of Weekly Famitsu reveals.
Additionally, Uruuru & Saraana, the priestesses of Yamato who were playable in Utawarerumono: The False Faces, will return as ally characters.
Utawarerumono: The Two Hakuoros is due out for PlayStation 4, PlayStation 3, and PS Vita in Japan on September 21.
Thanks, Famitsu.