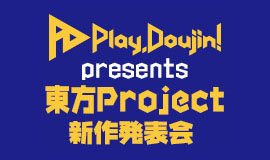 Mediascape will host a Touhou Project New Title Presentation event for PlayStation titles on September 2 at 20:00 JST.
The presentation will feature a collaborative title from Team Shanghai Alice and Twilight Frontier, as well as Touhou Project-related title presentations from representatives of each circle participating in the "Play, Doujin!" project (the name of the initiative to bring Touhou Project games to PlayStation platforms). Expect trailers and the latest game information.
Confirmed presenters include Twilight Frontier, Aquastyle, and Cubetype, and confirmed guests include Touhou Project creator ZUN, Sony Interactive Entertainment's Akinari Ito, Mediascape's Nozomu Ezaki, and management Ryuichiro Ban.
The presentation will be live streamed on Niconico. After it ends, Niconico Premium members can stick around for an "After Party" where Touhou Project creator ZUN will answer fan questions. You can submit your questions here.