Summon Night 6 PS Vita Wonderful Edition announced
Gaijinworks responds to the "overwhelming demand."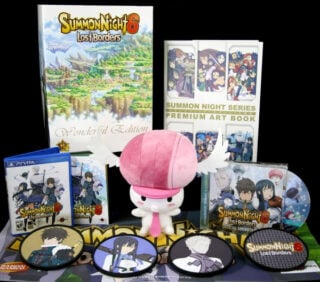 In response to "overwhelming demand" from the fans, Gaijinworks has announced it will release a PS Vita version of the previously PlayStation 4-exclusive Summon Night 6: Lost Borders "Wonderful Edition."
The PS Vita Wonderful Edition features the following content:
PS Vita Game with Multi-Sided Coversheet, Full Color Game Manual, and Full Color Disc Label
Dust-Jacketed, Hardcover 200+ Page Deluxe Art Book that chronicles the Summon Night Series
Summon Night 6: Lost Borders 32 Track FULL Soundtrack with Full Color Disc Label
Exclusive 7″ Plush (One of three possible sidekick characters from the game, Pink (shown), Blue, Grey, randomly inserted)
Exclusive Four PVC Molded Drink Coasters, one for each of the main characters, and one of the game logo
Exclusive Huge 21″ x 30″ poster (shown folded in picture)
Exclusive Collector's Box to hold everything
Exclusive Serial Numbered Hologram
The poster will feature different artwork from the poster in the PlayStation 4 Wonderful Edition, and the serial-numbered hologram on the outer box will be different as well.
Just like the PlayStation 4 Wonderful Edition, the PS Vita Wonderful Edition will be available exclusively from Gaijinworks' official website. Fans can reserve a copy for a discounted price of $115 between now and September 15. After that, the price will change to $135 until October, when the pre-order window closes.
Standard physical editions of Summon Night 6: Lost Borders are due out for both PlayStation 4 and PS Vita in North American retail outlets, and digital versions are due out in North America, South America, and Europe.
Summon Night 6: Lost Borders will launch in February 2017.
View a high-res version of the PS Vita Wonderful Edition glamour shot at the gallery.