Nep-Nep Connect: Chaos Chanpuru details story, characters
Compile Heart's free-to-play card battle RPG.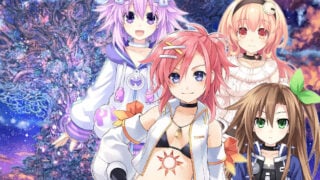 Compile Heart has opened the official website for Nep-Nep Connect: Chaos Chanpuru, providing new information about the free-to-play PS Vita card battle RPG's story and characters.
Get the details below.
■ Story

A number of dimensions combine, and a single world of disorder known as "Gyaos" is born.

Goddesses, fairies, monster girls, verse maidens, denizens of the underworld—while there is a variety of life all over, the peace in the world is preserved and the days of tranquility pass.

However, such peace is transient, as disasters have begun to occur everywhere by way of a special energy known as "Chaos Energy."

The Chaos Energy has mutated the hearts of many, is gradually spreading, and little by little continues to eat into the world.

A certain girl named Yurina goes on a journey to collect the "Golden Fragments," which are scattered across the land, in order to save the world from the threat of the Chaos Energy.

During her journey, she meets a girl named Neptune, who after a misunderstanding from an unfortunate first encounter, challenges Yurina to battle.

But during the battle against Neptune, the Golden Fragment held by Yurina suddenly begins to glow—.

Now, the fate of chaos is met with a major jolt.

■ Characters

Yurina (voiced by ???, illustrated by Manamitsu)

A bright and lively girl who immediately opens her heart to those she meets. She's a girl appropriate to her age, who enjoys girl talk and a bit of mischief. To save the world of disorder from a special energy known as "Chaos Energy," she goes on a journey in search of the "Golden Fragments," which are said to obtain a power, if gathered, that can rewrite the world. What awaits her at the point indicated by the Golden Fragment pendant she wears around her neck…?

DCD (voiced by ???, illustrated by Minamitsu)

The Dimension Chaos Device. A woman known by the nickname, "DCD." She has a silent personality and doesn't show many expressions, and only speaks when necessary. She is a mysterious woman who possesses a crystallized body with special energy known as "Chaos Energy" dwelling within. Using this crystallized body, she can convert life into chaos, but her intentions are so far shrouded in mystery.

The goddess of Planeptune, one of the four continents. She escapes Planeptune, and while chasing after IF and Compa, meets Yurina, who she attacks after a misunderstanding…

A Planeptune spy. She gets separated from Neptune, and on the way to Leanbox, meets Yurina, who she joins up with.

A nurse and close friend of Neptune and IF. She leaves Planeptune with IF and are on the run from Neptune.

He saves Yurina and company when they're surrounded by monsters, then joins up with them. His current goal is to try B-class gourmet cuisine from all over the world.

Fang's partner and a fairy who lost her memory. She's going all around the world in order to gather Fury, but is worried as her partner Fang has no interest.
Nep-Nep Connect: Chaos Chanpuru is due out for PS Vita in Japan in 2016. If you missed it, catch a teaser trailer here.