Mary Skelter details equipment upgrade system
Gather 12 types of Blood Crystals to upgrade your equipment.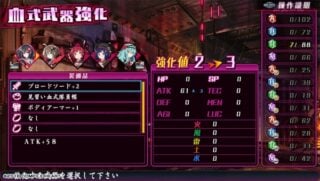 Compile Heart has updated the official website for its upcoming dungeon RPG Divine Prison Tower: Mary Skelter with details and screenshots of the game's equipment upgrade system.
By defeating enemy Marchen in battle, you'll be able to obtain items known as "Blood Crystals." These Blood Crystals are necessary to strengthen the equipment worn by the Chishiki Girls. Blood Crystals are divided into four types—A, B, AB, and O—and in total come in 12 varieties (it includes positives and negatives for each Blood Crystal type). Depending on the equipment, various Blood Crystals will be required to upgrade.
If you missed them, previous updates detailed The Solar Order, Job System, the Jail and Confinement Areas, the Liberation District, Dawn Liberation Front, the Chishiki Girls, Blood Skelter mode, the protagonist's actions, the three major desires, the basics of battle, Nightmare Battles, characters Princess Kaguya and Rapunzel, Thumbelina, Snow White, and Sleeping Beauty, as well as the setting, and characters Jack, Alice, and Little Red Riding Hood.
Divine Prison Tower: Mary Skelter is due out in Japan on October 13.
View the new screenshots at the gallery.