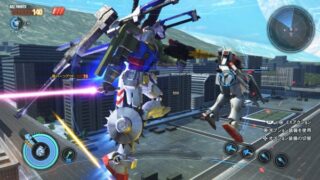 Bandai Namco is preparing more new downloadable content for Gundam Breaker 3, the game's official Twitter account reveals.
"We're hard at work on downloadable content for Gundam Breaker 3 for PS4 and PS Vita," the tweet reads. "The total volume of the additional scenario will likely be about the same scale of the main story. There will be new playable Gunpla, too, so please look forward to it."
In a separate tweet, it was confirmed that there are also plans to bring Gundam Build Fighters: Try Island Wars' Scramble Gundam to the game as downloadable content.
Gundam Breaker 3 is now available for PlayStation 4 and PS Vita in Japan, as well as in English in Asia.