Harvest Moon creator announces Birthdays for PS4 [Update]
Create, evolve, and develop environments.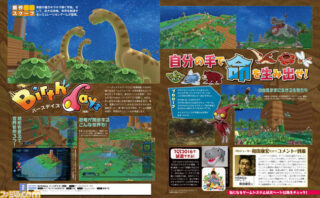 The latest issue of Weekly Famitsu reveals Birthdays (title tentative), a new title from Arc System Works and Bokujou Monogatari (Harvest Moon / Story of Seasons) creator Yasuhiro Wada.
Birthdays lets players create, steadily evolve, and develop environments on new lands where living things are born. It will be playable at the Tokyo Game Show in September.
Further details have yet to be released or leak from the magazine.
Thanks, Famitsu.
Update 9:35 a.m.: New details have come in.
Specs

Genre: Simulation
Release Date: January 19, 2017
Development Progress: 70%
Director: Hiroshi hara
Producer: Yasuhiro Wada

Gameplay

You can raise and lower your land to create mountains and valleys, or design a depression to accumulate water. Time will pass and living things adapted to the environment will be born. You can upload screenshots of the worlds you create with PlayStation 4's Share functionality.
Thanks, Hachima Kikou.