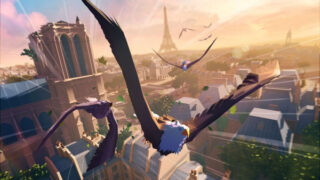 Ubisoft has announced release dates for virtual reality titles Eagle Flight, Star Trek: Bridge Crew, and Werewolves Within, as well as a free virtual reality patch for the PlayStation 4 version of Trackmania Turbo.
Get the information below.
Eagle Flight

Oculus Rift – October 18
PlayStation VR – November 8
HTC Vive – December 20

Eagle Flight, developed by FunHouse, a division of Ubisoft Montreal, sends players to the skies of Paris where as an eagle they will soar over the historic city and its iconic landmarks. Playable in single player and in the heart-pumping multiplayer "Capture the Prey" mode, players will feel the true sensation and exhilaration of flight.

Star Trek: Bridge Crew

Oculus Rift, PlayStation VR, and HTC Vive – November 29

Ascend to the stars, where no one has gone before in virtual reality, with Star Trek: Bridge Crew. Developed by Red Storm Entertainment, players will be beamed right into the action of a Starfleet ship as a member of the Federation, exploring space with a crew or solo as Captain. Star Trek: Bridge Crew was designed exclusively for VR, capitalizing on the powerful sense of social presence possible through virtual reality.

Werewolves Within

All Major VR Platforms – December 6

Players will be transported to the medieval village of Gallowston in Werewolves Within, a game of social deduction that brings the competitive fun of game night with friends to virtual reality. Developed by Red Storm Entertainment, a Ubisoft Studio, uncover the werewolves that have been terrorizing the townsfolk through fast-paced games with five to eight players. No two games are the same–one round you could be a villager, pleading your case for innocence, and the next round you could be a werewolf, lying your way to a win.

Trackmania Turbo VR Patch

PlayStation VR – November 8

Virtual reality will also be introduced into the arcade–racing universe of TrackMania Turbo. Thanks to a free patch, players will be able to enjoy the game on PlayStation VR beginning November 8.