Chinese publisher Oasis Games announces PlayStation VR lineup
Ace Bananas, DYING: Reborn, Mixip, Pixel Gear, and Weeping Doll.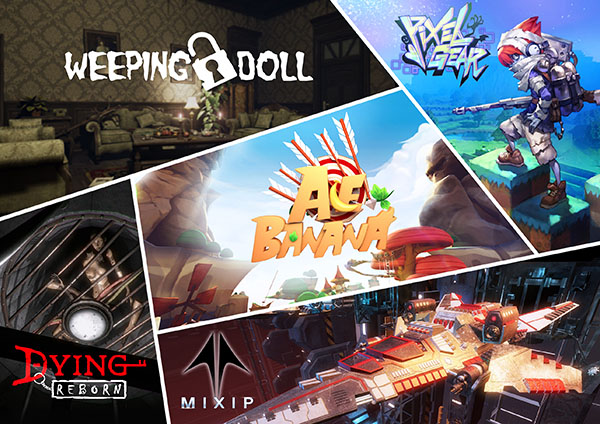 Independent Chinese publisher Oasis Games will release five titles for PlayStation VR during the virtual reality headset's 90-day launch window, the company announced.
Get the full lineup of titles below.
Ace Banana (TVR, October)

Complete with single player and multiplayer co-op gameplay, Ace Banana features full-filled bright environments with comical weapons, outrageous enemies and wacky soundtrack that families will go bananas for! Intuitive controls and challenging levels that are quickly learned but slowly mastered will make Ace Banana a favorite of PlayStation VR early adopters.

In the game, players assume the role of a Banana Archer, the world-famous protectors of bananas. In opposition are hordes of mischievous monkeys, set on stealing bananas from the player's stash. As the enemies arrive in waves, players use the PlayStation Move controllers to mimic drawing, aiming and shooting their bow with an arsenal of arrows ranging from plungers to fish and even pandas! Players will need to stay on their toes as when all their bananas are stolen, the game is over!

Developed by TVR, Ace Banana is scheduled to ship with the PS VR hardware launch this October.

DYING: Reborn (Nekcom, Winter)

DYING: Reborn is a dark, horror-themed puzzle game that creates a unique first-person room escape experience. Examine, collect and use items to solve a variety of creative puzzle types to escape each spooky room, feeling shivers down your spine at every turn!

The game will also be made available the PlayStation 4 computer entertainment system and PlayStation Vita handheld entertainment system.

Developed by Nekcom, the title will release this winter.

Mixip (TVR)

In the arcade space shooter Mixip, players control two ships simultaneously, wielding a Move controller in each hand. Combine the ships for new abilities, dodge heavy bullet fire and grab upgrades to increase weapon power and take down bosses!

Developed by TVR.

Pixel Gear (Geronimo Interactive, October)

Pixel Gear is a colorful 3D pixel shoot-em-up with a variety of humorous cartoon monsters and ghosts as enemies. Each level is filled with interactive objects that exhibit entertaining reactions when hit and upgradeable weapons that grant the ability to slow down or even stop time.

Developed by Geronimo Interactive, Pixel Gear is scheduled to ship this October.

Weeping Doll (TianShe Media, October)

Weeping Doll is a story-driven horror adventure where dolls come alive, animated and fueled by the negative thoughts of their child owners. Solve difficult puzzles in eerie surroundings as an abused girl's doll takes revenge on her parents—and things only get scarier from there! Explore environments in first-person view as the surprising truths of the storyline are slowly uncovered.

Developed by TianShe Media, Weeping Doll is scheduled to launch this October.
Watch a trailer for the lineup below.