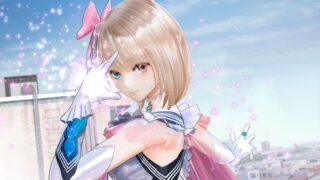 Gust has shared first details and screenshots of Blue Reflection: Sword of the Girl Who Dances in Illusions, its newly announced "heroic RPG" for PlayStation 4 and PS Vita in Japan, which is still without a release window.
Get the information below.
■ Overview

The setting of Blue Reflection: Sword of the Girl Who Dances in Illusions is a school in modern day Japan. With the introduction of social networking sites and smartphones comes new ways to communicate with people. However, the essence of interaction between people does not change no matter the era. "Even if you don't have much power and happiness on your own, you can increase it by taking someone's hand." In Blue Reflection, connections and human essence make up the themes. It is a "heroic RPG" that depicts a life-sized projection of female youth.

■ A "Heroic RPG"

In Blue Reflection, Mel Kishida is the character designer and supervisor, and Keiichi Sigsawa, Yusaku Igarashi, and Kouji Natsumi are the series organizers. Each of these four names combine their own original worlds to create the one world of Blue Reflection.

This game is based on the concept of interaction between girls. In high school, everyone experiences fun, joys, sorrows, unarticulated anxiety, and fear. As the protagonist progresses through the game, she'll have such experiences and become deeply involved with many of her classmates. She'll make friends, cry for the sake of others, and sometimes friendships will even be broken. By continuing these interactions, the protagonist will grow and gain both strength as a human being and confidence in the power of friendship. Through Mel Kishida, Keiichi Sigsawa, Yusaku Igarashi, and Kouji Natsumi, a new genre of "heroic RPG" is born, where modern day high school, beautiful girls, and fantasy collide.

■ Characters

Hinako Shirai (voiced by Yuki Takada)

A ballet dancer who once had great expectations for the future.

Height: 158cm
Weight: 44kg
Likes: Classical music

The protagonist. One year earlier, she was to compete in an overseas ballet competition that would be her gateway to success, but was forced to withdraw after she injured her foot. As an aftereffect of her injury, she has not been able to dance since, and has thus sealed up her heart. However, her body and mind have not forgotten the lessons she's taken every day for the past ten-odd years, and she believes that one day her foot will heal.

Yuzuki Shijou (voiced by Marika Kouno)

A naive and energetic girl.

Height: 147cm
Weight: 37kg
Likes: Chocolate

One of the mysterious girls that gives Hinako her Reflector power. Several days after they meet, she suddenly shows up as a transfer student at Hinako's school. She has an exceedingly cheerful sense of humor, a personality adored by everyone, and specializes in one-shot gags. Although they only just met, Hinako is first and foremost in her mind.

Raimu Shijou (voiced by Sawako Hata)

A results-based realist girl.

Height: 146cm
Weight: 36kg
Likes: Marshmallows

One of the mysterious girls that gives Hinako her Reflector power. She is Yuzuki's sister and in the same year of school as her. Unlike Yuzuki, she has a results-based way of thinking, and puts other peoples' feelings ahead of her own. Something she does share in common with her sister is that she treasures Hinako.

■ A World that Interweaves Girls

One day, the ordinary is met by the extraordinary.

The setting is Hoshinomiya Girls High School, where students attend class, chat during breaks, and enjoy themselves after school. Your classmates, who generally enjoy such a school life each day, are blessed with happiness. Hinako, while embracing such feelings in secret, passes each day a little different than other students.

This girl has only but one wish. "For my foot to be healed, so I can do ballet again." For Hinako, to dance ballet was her normal everyday, but now that she unexpectedly can't, her heart has become but a shell of its former self.

Many girls attend Hoshinomiya Girls High School. Studious girls, club-devoted girls, and girls who work hard at personal polish and enjoyment, who make the most of student life in their own way. You'll meet girls with various personalities, listen to their troubles, spend your breaks with them, and leave school with them. Through this sort of communication, Hinako's heart will gradually change.

Ako Ichinose (Likes: Money)

Chihiro Inoue (Likes: Flowers)

Yuri Saiki (Likes: Thinking)

Rin Sanada (Likes: Going Out)

Shihori Sugamoto (Likes: Accessories)

Fumio Taya (Likes: Music)

Kei Narimiya (Likes: Sports)

Sanae Nishida (Likes: Cooking)

Mao Ninagawa (Likes: Training)

Kaori Mitsui (Likes: Clothes)

Sarasa Morikawa (Likes: Dance)

Rika Yoshimura (Likes: Running)

One day, in the midst of her boring everyday, Yuzuki and Raimu appear before Hinako. By meeting these girls, Hinako is granted a mysterious power. And from there, a great change in Hinako's school life begins to occur.

■ Magical Power and Transformation

Her Reason for Fighting

By meeting Yuzuki and Raimu, Hinako obtains a magical power to fight as a magical girl known as a "Reflector." But what is a Reflector? What is she fighting? Why is she fighting? While she still doesn't really know why she obtained this power, she will throw herself into battle under the guidance of Yuzuki and Raimu.

Hinako doesn't know why she is fighting nor the enemy she fights against. However, it is not something she is concerned with. This is because, while she's a Reflector, her magical power lets her freely move her body.

Even if she is attacked by overwhelming threats and anxieties, as long as she is not defeated and continues fighting as a Reflector, her foot may one day heal, and she might be able to dance ballet once again. There is only one reason she became a Reflector and fights. And that is to fulfill her own desire.

However, as she continues fighting, Hinako gradually begins to take notice. Just who are these enemies that she's fighting? And what is the meaning of these battles? By continuing to fight as a Reflector, what will happen to the world—?
View the screenshots at the gallery. Visit the game's official website here.