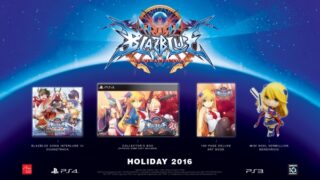 Aksys Games will release a BlazBlue: Central Fiction limited edition for PlayStation 4 and PlayStation 3 alongside the standard edition in North America, the publisher announced.
The limited edition will ship with the following:
Deluxe Hardcover Art Book — Contains 100 pages of BlazBlue art celebrating the history of gaming's flashiest 2D fighting series!
Mini Noel Vermillion Nendoroid Figure — Supervised by Toshimichi Mori and forged by the masters at Good Smile. Noel strikes an iconic pose, sure to mesmerize collectors and fans alike!
BlazBlue Song Interlude III Soundtrack — Ten tracks of in-game goodness bound to up your fighting drive!
Aksys Games also revealed that newcomer Es, from the XBlaze series, will launch as a downloadable content character for free on the PlayStation Store for the first two weeks after launch day. After the promotional window, she'll be available for purchase. Here's her description:
A new challenger approaches! The mysterious Es of Xblaze fame joins the fray, ready to lend her brawly talents to eager fighters. Es, Guardian of the Azure and sometimes known as the Mediator, carves out her own unique spot on the roster.

A cursory glance at Es reveals her suite of standard normals and specials which form the foundation of her attack arsenal. While Es can be played as a straightforward beat stick, she has the ability to enhance her special moves, offering inventive fighters strategic flexibility.

Her drive, "Crest Arts", transforms the trail of her sword into a massive avalanche of doom which gives her devastating attack power during offensive strikes. More hits = more pain. Tricky players can also utilize her drive's time lag to put opponents in sticky defensive situations and force them to make hasty decisions.
In other news, Aksys Games confirmed on Twitter (2) that the game will not ship with English voice overs, and that there are no plans to dub the game post-release.
BlazBlue: Central Fiction is due out for PlayStation 4 and PlayStation 3 on October 6 in Japan, this holiday in North America, and Q4 2016 in Europe.
View a new set of screenshots at the gallery.