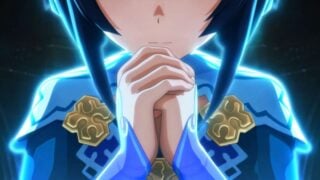 Bandai Namco has shared new Sword Art Online: Hollow Realization information and screenshots, detailing the game's story, Genesis and Premiere characters, and other features.
Get the information below.
■ Story

2026. A new virtual reality MMORPG called "Sword Art: Origin" is suddenly announced. Kirito, who participated in the closed beta test, meets a mysterious girl there. An NPC girl without a name or settings. She was an NPC with a strange quest that awarded only a single Cor.

The girl, given the name "Premiere," will deepen her interactions with the Kirito and friends over the course of their adventure. "Humans" and "AI." Beings with such different logic cannot coexist. When the girl's true purpose is revealed, people will fight for "it." Will the NPC girl's meeting with the "Black Swordsman" destroy the world, or save it?

The curtain of a new death game rises…

■ Characters

Genesis (voiced by Kazuyuki Okitsu)
"The Black Swordsman"

A remarkable warrior known as the "Black Swordsman" in Sword Art: Origin. He encounters Kirito and friends after meeting the NPC girl.

Premiere (voiced by Yuiko Tatsumi)
"The Mysterious NPC"

An NPC without a name or settings. Kirito and friends named her "Premiere." Until now, she has been shrouded in mystery, but now we will see her interact with Kirito and friends. It seems she has an unexpectedly sweet side, as well.

■ New System: "Skill Allied"

"Skill Allied" is a new system that combo connects the party's Sword Skills. By using this system, you can trigger special party links that deal higher than normal damage.

—Skill Allied is activated. Blue arrows indicate the order of the link. Here it will go from Sinon to Strea.

—From Strea, it goes to Asuna. Asuna connects with her Sword Skill. Finally, it jumps to Kirito.

—By skillfully connecting Sword Skills, Skill Allied continues and the damage you deal will continue to increase.

■ The Town of Beginnings

In the Town of Beginnings, you can purchase items, connect with your friends, and interact with over 300 NPCs. There are all sorts of things you can do—you can give the items you buy at shops to your friends and NPCs as presents, or just relax at the cafe. Use The Town of Beginnings to take a break from your adventure. Or to prepare your equipment. All 300 NPCs can also be recruited to join your party.

■ NPCs and Messaging

You can enjoy a variety of interactions with the 300-plus NPCs in the game. Additionally, you can receive messages from the NPCs you achieve a high level of friendship with. You can further increase that bond by replying.

■ Raid Bosses

During Raid Boss battles, four parties of 16 people participate. Fight alongside other parties to take down the powerful boss. During Raid Bosses, Skill Allied can be used by only four members of your 16-person party, but you can increase the damage it deals by continuously attacking with the four parties that participate.

■ PS4 and PS Vita Cross-Save

Sword Art Online: Hollow Realization supports cross-save between PlayStation 4 and PS Vita. You can upload save data to PlayStation Network and share it between both versions.
Sword Art Online: Hollow Realization is due out for PlayStation 4 and PS Vita on October 27 in Japan, and this fall in North America and Europe.
View the screenshots at the gallery.