Idol Death Game TV first details, screenshots
Become center or die.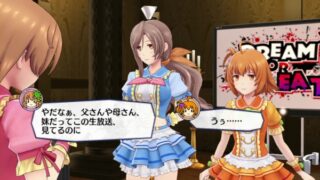 D3 Publisher has released the first details, screenshots, and opened the official website for Idol Death Game TV, its newly announced PS Vita adventure game from The Irregular at Magic High School: Out of Order developer Witchcraft.
Get the information below.
■ About

The Life or Death Battle for Center Begins!

An action adventure set within a mansion deep in the mountains where a life or death battle for center between idols unfolds. The idols' ruthless competition is broadcasted live throughout the nation. The goal is to be the last idol standing and win center position after the judging in each stage under the watchful eyes of the audience. The judges will be checking for a variety of things essential to being a good idol, such as dancing and performance. Those who lose are decided based on the player's actions, and a death game awaits those idols. The story changes based on the idols that remain, and you can choose a playable character from all of the idols that appear. Enjoy the story from each idol's point of view.

■ Story

Summary

Top idol group "Project 47" holds a big event once a year to decide upon its center. The event is called the "Dream of Dreams," or "D.o.D." This year is the tenth Dream of Dreams, which has now begun.

However, this year's Dream of Dreams is a lot different from usual…

This year's event is held at an old-style mansion deep in the mountains called the "House of Seven Moons." It includes even the lower ranked members of the popular ranking, and there are mysterious selection standards. It's a mysterious event where the idols are given no script, and and how they chose who will be center is unknown.

The live television broadcast was beginning under a plethora of unusual circumstances and without a single audience member.

With anticipation and anxiety in their chests, the chosen members open the doors of the House of Seven Moons…

"Dream" or "Death." THe idol' life or death battle for center begins…

Project 47

—Project 47

An idol project made up of seven groups from different areas of Japan's 47 prefectures, with a total member count of over 200. Every year since its establishment 10 years prior, the project recruits a new generation of members. The 10th generation consists of the latest members.

At first, Project 47 could not cover every prefecture, and there were less than 20 members, but word of mouth and social networking services led to grassroots activities from which its popularity spread, and in its fifth year became popular enough to hold a concert at the Dome.

Now, Project 47 is known by everyone in the country and is its largest idol group.

—Team Happy

One of the seven groups of Project 47. This one consists of girls from the Kanto region. Since it's the Kanto region, Team Happy is often exposed to media, and has many top idols in the D-Rankings. It's hard to get into, with the most competitive auditions of all the groups. The team concept is "Happiness."

—Team Smile

One of the seven groups of Project 47. This one consists of girls from the Kansai region. It can one way or another be compared to the Kanto region's Team Happy, and is commonly regarded as their rival team. The team concept is "Smiling."

—Team Passion

One of the seven groups of Project 47. This one consists of girls from the Kyushu region. More details will be shared in the game's next news update.

—D-Ranking (Dream Ranking)

The official ranking within Project 47. It is decided based on fan voting and adminsitrative grading, and is renewed every four months.

■ Characters

Team Happy

—Chiharu Chigasaki

Voiced by: Emi Uema
D-Ranking: 5
Birthplace: Kanagawa Prefecture
Birthday: April 5
Blood Type: O
Height: 155cm
Three Sizes: B83-W57-H85
Skills: Singing, MCing
Hobbies: Karaoke
Favorite Food: Curry and rice

A member of Project 47's Kanto team, "Team Happy." Part of the 10th generation. She's an orthodox idol, constructive and positive. She's a hard worker with plenty of common sense. While she has strong doubts about this Dream of Dreams, she participates with a positive attitude in order to achieve her dream of becoming a top idol. She is wise and makes sound judgments, and since she is frank and sociable, she has the makings of a great idol. She has a straightforward, sincere personality and never forgets to be grateful to her fans. She has a perfect attendance record for handshake events. Since gaining popularity as an assistant on the late-night variety show "Late-Night Sunflower," she's been actively singing and making variety show appearances, but…

—Mariko Kamata

Voiced by: Azumi Asakura
D-Ranking: 88
Birthplace: Tokyo Metropolitan area
Birthday: December 19
Blood Type: A
Height: 169cm
Three Sizes: B91-W60-H89
Skills: Remembering the staff's faces and names
Hobbies: Window shopping
Favorite Food: Melon bread

Leader of Project 47's Kanto team, "Team Happy." Part of the first generation. She has a 10-year career and is Project 47's last opening member. She is a calm, gentle, and soothing idol. While not blessed with luck, she is extremely gullible, and not fit for show business. She is one of Project 47's initial members, but since he hasn't had a big break in 10 years, she went back to using her real name before the last Dream of Dreams to start fresh. For the younger idols, she is an older sister type that can be relied on, but…

—Shirase Tsubaka

Voiced by: Yurika Kubo
D-Ranking: 15
Birthplace: Ibaraki Prefecture
Birthday: March 17
Blood Type: AB
Height: 149cm
Three Sizes: B75-W55-H82
Skills: Acting, imitation
Hobbies: Eating local sweets
Favorite Food: Udon

A member of Project 47's Kanto team, "Team Happy." Part of the 10th generation. A bright and lively younger sister-type idol and mood maker. She's always thinking positively, and even overcomes troubles with a smile. She calls Chiharu and Mariko "Chihaane" and "Mariane," respectively, and cherishes them dearly. Lately people are enjoying the way she speaks so frankly without regard for how other people think, and her popularity is suddenly on the rise, but…

Team Smile

—Ayaka Tennoji

Voiced by: Yu Serizawa
D-Ranking: 6
Birthplace: Osaka Metropolitan Area
Birthday: July 23
Blood Type: B
Height: 156cm
Three Sizes: B80-W57-H85
Skills: Music, all sports
Hobbies: Doing her nails, watching pro wrestling, etc.
Favorite Food: Her homemade late-night snacks

Leader of Project 47's Kansai team, "Team Smile." Part of the ninth generation. She is a hot-blooded idol with a strong sense of justice who hates unfair and illegitimate things. She has a fierce rivalry with Chiharu, who pulled past her in the D-rank despite it being her first year, and always keeps her eyes on her. She is compassionate and cries at the drop of a hat. She's easily moved by touching stories and although she puts on a resolute attitude as a leader, she wails behind the scenes. She was regretabbly the runner-up in the previous Dream o f Dreams, but this year is seeking revenge. She has the nickname "Tenaya" and bosts about being the Kansai region's most popular idol, but…

—Rito Karasuma

Voiced by: Asuka Nishi
D-Ranking: 6
Birthplace: Kyoto Metropolitan Area
Birthday: June 8
Blood Type: A
Height: 156cm
Three Sizes: B87-W58-H86
Skills: Acting, recitation
Hobbies: Reading
Favorite Food: Manju with meat filling

A member of Project 47's Kansai team, "Team Smile." Part of the ninth generation. She's a naive idol who's as gentle as she is quiet. She has an especially good relationship with Ayaka, her teammate who she started with and calls "Aya-chan," and the two are always doing things together. She's admired Ayaka ever since a certain thing that happened, and her good will for her is far beyond the bounds of friendship. She is a great actor and works as the lead role on a late-night drama, and her idol career is going well, but…

Other

—Doripaku

Voiced by: Kappei Yamaguchi

Host of this year's Dream of Dreams. He is a mysterious being who says he appeared "to make the world much more interesting." He is both cruel and cunning, as valuing the lives of others is merely his public stance. He thinks of it as one way to manipulate people's emotions and lives. As host of the program, he moves things along in a variety of personalities, sometimes excitable, sometimes cheerful, sometimes vigorous; sometimes he pretends to be cute, sometimes he makes biting remarks.

■ System

Game Flow

The player's goal for each stage is to make it through the judging and advance to the next stage within the time limit and not be the last one left behind. If the last contestant standing survives the final judgment (the final stage), they'll become the center of Project 47. Which idols lose in each stage depends on the actions of the player, so for each play-through the characters that survive will change. It's game with high replay value that will keep you on the edge of your seat.

—Point 1: Stage Starting Event

An event where all of the participating idols meet. Doripaku also explains the judging details.

—Point 2: Exploration

Freely move about the mansion to collect items and talk to other idols in order to gain the upper hand when proceeding to judgment.

—Point 3: Judgment

Judgment for survival. The last idol heads for the Death Concert.

—Point 4: Death Concert

If the player passes judgment, a loser will be decided and proceed to a Death Concert. (The idol that loses dies.) But you've cleared the stage! Off to the next stage!

If the player loses, the Death Concert will ensue and result in a Game Over.

House Exploration

During exploration parts, you can freely move about the mansion to collect items and exchange information with other idols. To survive judgment, it is important to raise your own tension while lowering your opponent's. And by collecting items and information, you'll create a better situation for yourself. Besides collecting items, you can also make contact with other idols and conspire together in secret. At times, you may need to expose an illegal scandal that causes a crisis in an idol's life.

Final Concert of Death

In each stage, the idol unable to pass through judgment is forced to participate in a penalty death game called the "Death Concert," where she'll shine for the last time in her life. This aggressive, super "Death Concert" bravely challenges broadcasting ethics, and if the trial is cleared, the loser may be revived, but what destiny awaits these idols?

Death Concert Gallery

The movies are done in gorgeous graphics that make you feel like you're at a real concert. Death Concerts are a must-see.
Idol Death Game TV is due out for PS Vita in Japan on October 20.
View the screenshots at the gallery.